Since buying the Tenere 700 in October 2020, I've managed to cock up around 30,000 kilometers of seal, gravel, mud, and rocks. So, how does it stack up? Am I still in love? is there anything else out there I'm looking at to replace it?
Content creators and journos all over the world have gone on about how good the CP2 engine is, So I won't go on about that too much, except to say that moving from my previous MT07 with the LAMS 655cc version of the engine to the full-fat 689cc engine was a positive move. I've never really been wanting more power. It's been nice to ride other test bikes with bigger engines and more power from time to time, but every time I give them back and swing a leg back over my own T7, I feel at home.
I've never really been worried about what some identify as a snatchy throttle at low revs. Nor have I ever really seen the need to look at mods to gain more power. Its been a great commuter bike, a pretty "not bad" tourer, and in the last 9 months, I've really started enjoying it on gravel roads also. That's not to say I didn't enjoy it before. but I think seat time and getting to know your bike over a long period of time, you can experiment and try new things. During a gravel road section on my Moto-camping expedition at the start of the year, I started playing with power slides, shifting the weight, and drifting the rear wheel out around corners, something that looks cool and is enjoyable to do but ruins your tyres.
Mods
I started with the Outback Motortek Crash bars and skid plate, and have never had an issue with them. the bars have saved the fairings many times. They're sporting a few scratches and scrapes, but they're still working well, and the skid plate has saved the undercarriage more times than I care to remember. If I was to redo this experience or buy another adventure bike, I would go for them again.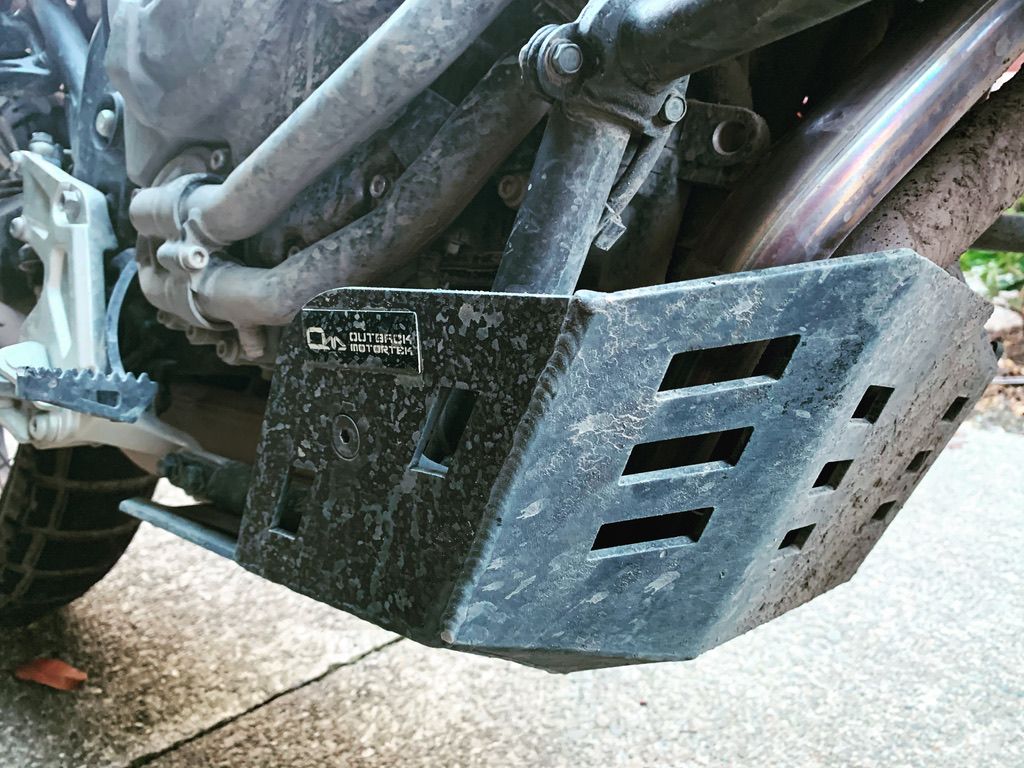 I sourced a set of black shorty levers off AliExpress which I've not had a single issue with. They're actually the same units I had on my MT07, and I quite like them.
I'm still running the factory hand guards, which have saved the bars and levers a few times. Again, I've had no issues with them, and have not been motivated to change them.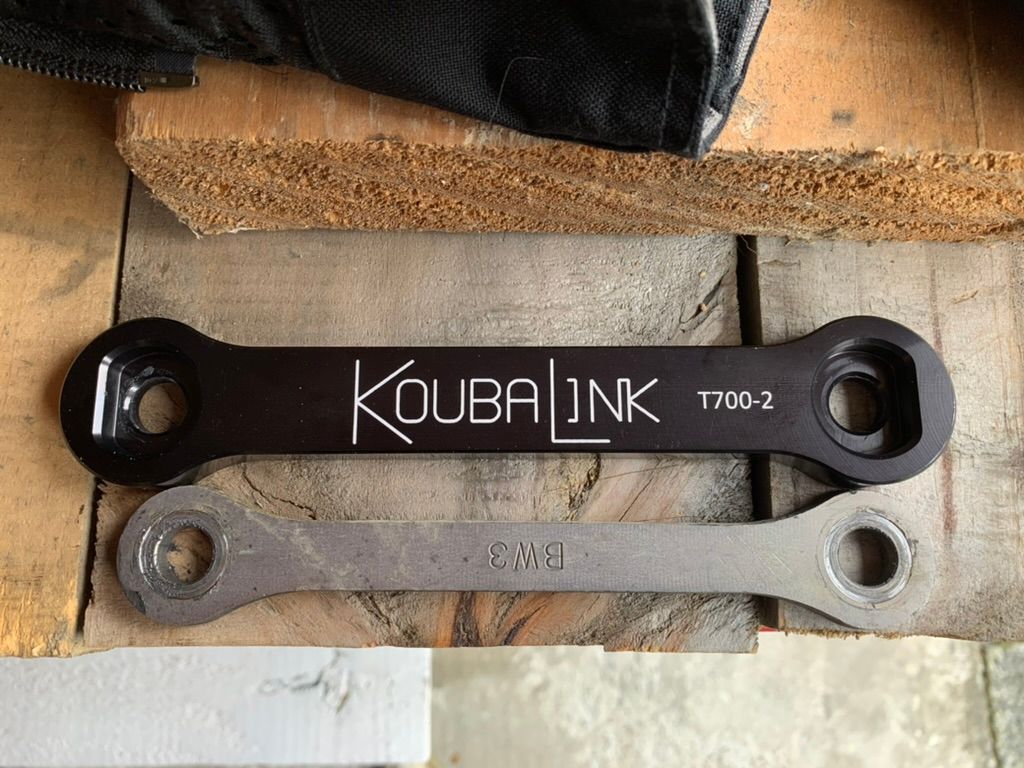 I got a lot of hate online when i released my video about lowering the Tenere 700, I'm still getting it in fact, but when it comes down to it. I have not noticed a single issue with lowering the bike.
I lowered it with a set of Couba-link lowering links, and a factory Yamaha low seat.
I don't regret lowering the bike in the slightest. and in February proved that a slightly lowered T7 can keep up with the rest of the pack at the Yamaha Adventure Ride NZ, on some truly difficult Terrain.
If you have been keeping up to date on my content, you'll know I have done a fair bit on the bike. some mods have been good, others have introduced further issues down the line. The first thing I did was install a Ventura EVO luggage rack. and that has stayed on the bike for most of its life. It's handy, even if you're not using the Ventura bags with it. One reason it has stayed on the bike is that there isn't a factory luggage rack or any rear grab handles. So I think that was a win.
Luggage
I've tried a far few luggage solutions on the bike, and I'm still experimenting, but here's what I've come up with that I quite like.
Around town, I'm happy to run no luggage, but often take my Kriega T18 backpack when heading out as you never know when you'll need to carry something that's just to big for your pockets.
With the Ventura EVO rack on the back, I am able to run one of the 3 different sizes of EVO-Jetstream pack, which is pretty good for commuting. And would handle adventure riding also, but I prefer to go for a waterproof solution when heading out for longer or multi-day rides.
For a day trip, I will often that my Kriega T18 backpack, and either the US-20 strapped to the pillion seat or Ventura rack or the 2 Kriega OS-12 packs either mounted to the crash bars or the OS-Base strapped over the pillion seat. If i was to need more space, then my options are to move the OS-12s to the crash bars and buy a set of OS-18 packs for the OS-base. Or I could ditch the OS-base altogether, and mount the US-20 to the seat, and the OS-18s to that.
Another solution I have used is from Mosko Moto. I'm really liking the Nomax Tank bag, which fits really nicely on the tank of the T7. I also picked up the 40L Backcountry duffle, which I'm yet to put to the test. This would either strap to the pillion seat or the Ventura rack.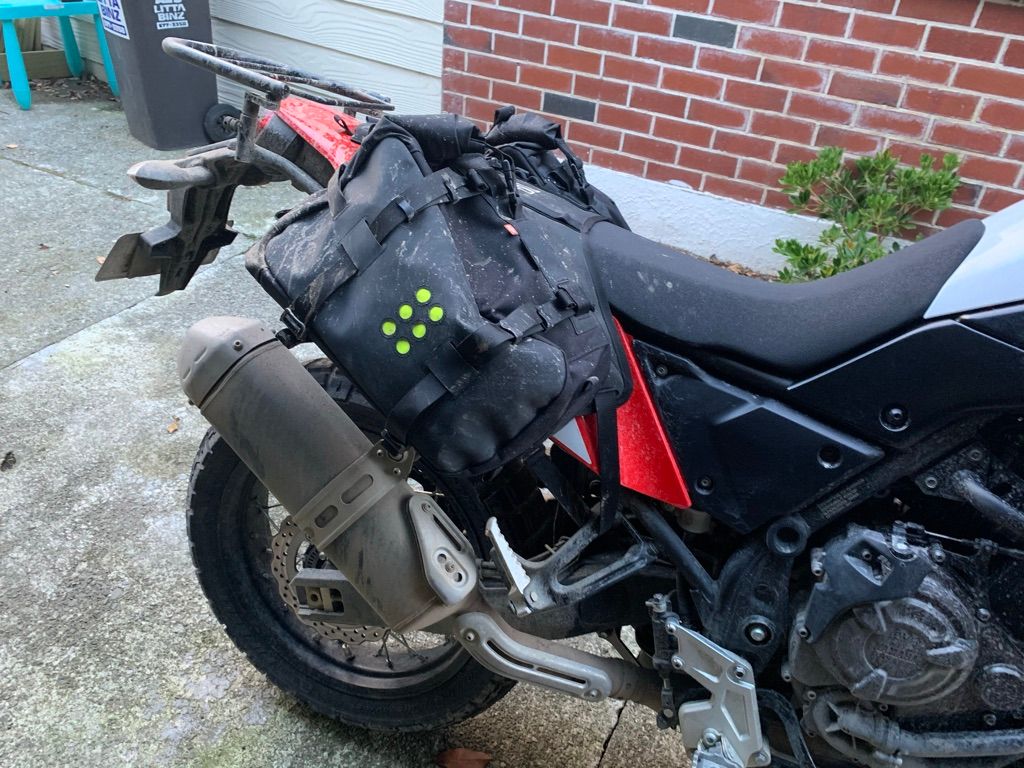 Tyres
Some people on the internet don't like the Pirelli Scorpion STR Rally tyres that come on the T7 from the factory, but I've not really had an issue with them. I'm not a fan of the front on the gravel. I find it a little unsure of itself. So swapped it out for a Mitas E07+
As for the rear, I got around 20,000km on the first Pirelli, and swapped out for a Mitas E07+ for around 5000km, before getting a flat, so i put a second Pirelli STR on, and have been running that for the last 10,000km with no dramas. I even joined in on the Yamaha Adventure Ride while running the second Pirelli STR and proved that its not a bad tyre. When that's worn out I will likely put the repaired Mitas E07+ back on the rear and get a bit more use out of it.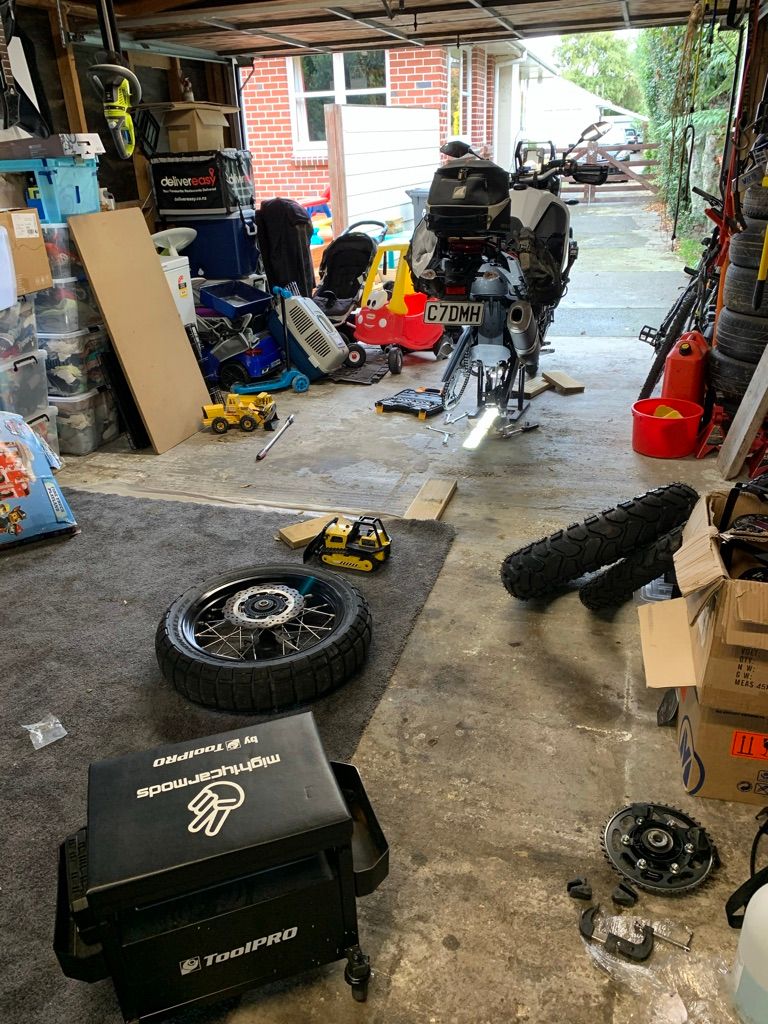 Maintenance
The CP2 engine is pretty stress-free, with oil and filter changes every 10,000km and a valve check at around 40,000km. I've done all the maintenance up to this point myself, but I may book it into a Yamaha service agent for the 40,000km service just to check that everything is up to spec.
I've had a Scottoiler X-system 2.0 installed on the bike for all but 1800km of its life, and that has been brilliant for the chain and sprockets. I haven't needed to do much in the way of cleaning or lubricating the chain. Just check that it's topped up with oil and ride the bike. There is still plenty of life in the chain and sprockets, but they're getting a little noisy, so will look at changing them out shortly.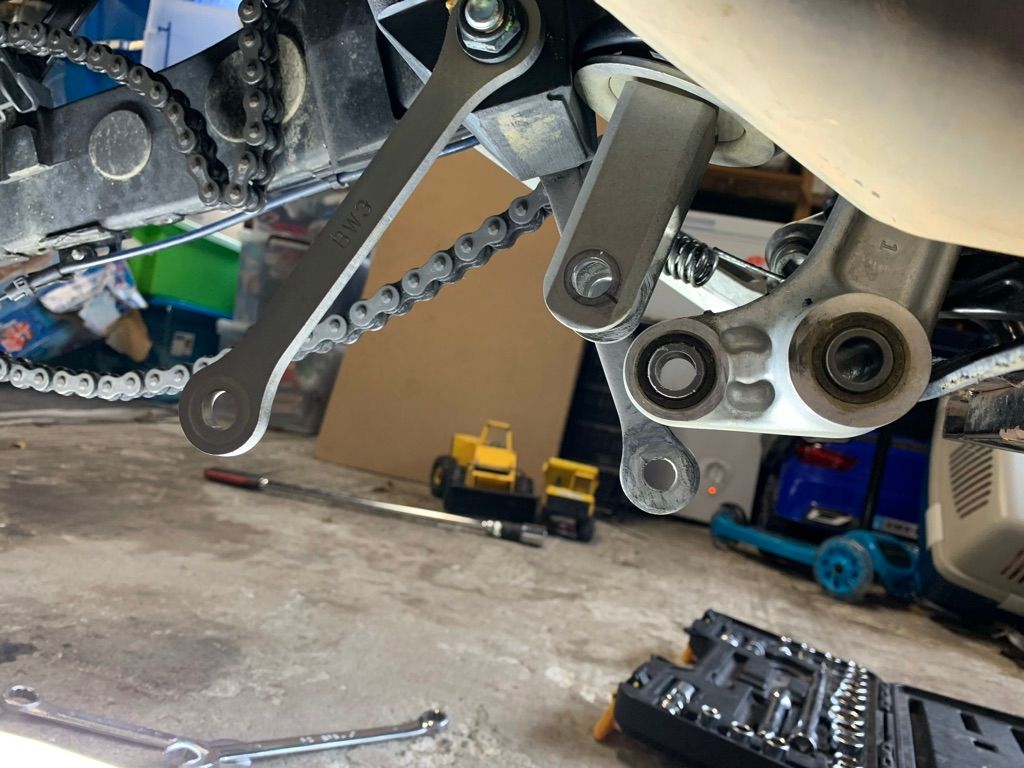 Brakes
The Brakes are a bit average on the T7, which is only really noticeable when you ride other bikes along with the T7 back to back. I have a new set of Brembo pads and some replacement brake fluid on the shelf ready to go on the bike, but as yet have not been motivated to do it. The front is not as bitey as I would like, but using both front and back at the same time hauls the bike up adequately.
The Tenere 700 has never let me down. It's been reliable through all conditions and carried both me and my crap from one end of the country to the other without complaining. In 2 years I've completed 30,000km, seen some sights, and experienced some amazing riding. I've ridden other bikes and have always been happy to come back to the T7. If I had the chance to do it all over again, I would and I'd probably do all the same mods to it also. Since buying the T7, I've never really looked at any other bike and thought about trading. It may not be the bike for everybody, but it certainly is the bike for me for now.