The Molesworth Station road is a stunning piece of NZ. It's only open for a few months of the year, from Labour weekend to around Easter.
I and a mate (Todd) were lucky enough to take 2 outstanding bikes down there, on opening day, while other parts of NZ were still effectively in COVID alert lockdowns.
But, I'm getting ahead of myself. we start this story 5 days before departure. I picked up the Suzuki V-Strom 1050XT from TSS Motorcycles and was surprised to find it had precisely 8 kilometers on it. "Better look into break-in procedures," I thought. I took it straight around to Todd's place. knowing he would be eager to get to work on setting the bike up. He tinkered with the fork preload, rebound, and compression damping, and set the sag in the rear shock. Taking a lesson from Dave Moss, we put a cable tie around the fork to see how much of the travel we were using. We rolled the bars forward slightly, installed my Quadlock phone mount, a Beeline Navigation device, and the Ventura EVO pack rack.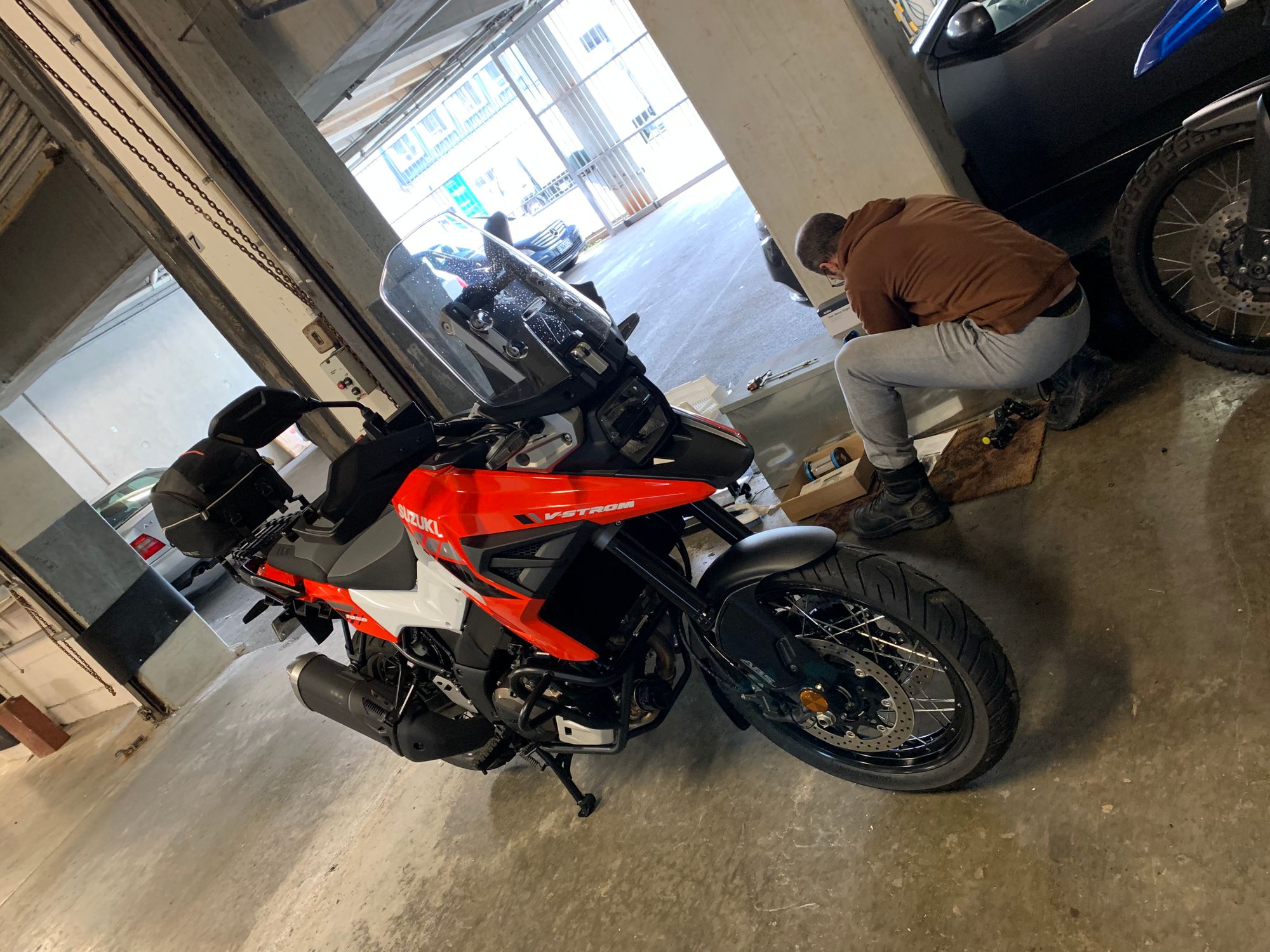 On the motorway home I experimented with the adjustable screen, finding it was best in the high setting, but I would have liked it slightly higher. And that was pretty much it for the setup of the V-Strom. I rode the bike to and from my office in central Wellington for the next 5 days.
On Wednesday, 3 days out from departure, we headed out to Motomart to pick up the Harley-Davidson Pan America. Given I had already ridden the bike for a solid week, I let Todd take it home and get acquainted. Because everything is controlled electronically, there is less to set up. We popped a cable tie on the fork just to see what the electronic Showa suspension was up to, put the seat in the high position and that was about it.
People have commented that putting a VStrom up against a Pan America isn't a fair fight, as they're not in the same class. But I think it depends on how you look at it. They're both Adventure/Touring bikes. Both run 19-inch front and 17 inch rear wheels. Both have rider modes, ABS and TC. One of the biggest differences is the price, with the Pan America coming in at around $30,000 and the VStrom currently available for around the $19,000 mark. This was going to be a very interesting trip indeed.
Saturday morning we planned to meet at the Interislander ferry terminal around 7:20 am. I was on the VStrom, loaded up with Ventura EVO rack and EVO-22 Jet-Stream pack full of camera gear and tools, and a Kriega US-20 pack for clothes and essentials. I also had my Kriega T18 backpack just in case. Todd was on the Harley-Davidson Pan America and traveling much lighter with just the Kriega US-20 pack for clothes and essentials.
Because both bikes come with tubeless tyre setups, we hit up both Eurobike Wholesale and Motogear.co.nz for some puncture repair kits, knowing that if we didn't take any, we would need them, and if we took a couple, then we would likely not need any at all. The Dragon Stone kit is rather nifty, with 3x co2 canisters, a reaming tool, a bacon strip pulling tool, and a bunch of back strips all packing into a nice wee rectangle pouch with a loop on the back so you can carry on the outside of a back for ease of access.
The FRI Concepts kit is much the same, though it comes in a slightly smaller form factor about the same size and dimensions as a can of beer. It has the shaft tools and bacon strips stored in a 2 piece screw-together metal canister, which doubles as the handle for the tools.
Saturday morning came, and we met at the ferry terminal as arranged. Spirits were high as we made our way down to the waiting area with the rest of the motorcycles in the gorgeous morning sunlight. We loaded onto the ship, put the bikes on center stands with front wheels in chocks, stropped down, and headed upstairs to find a seat and some breakfast.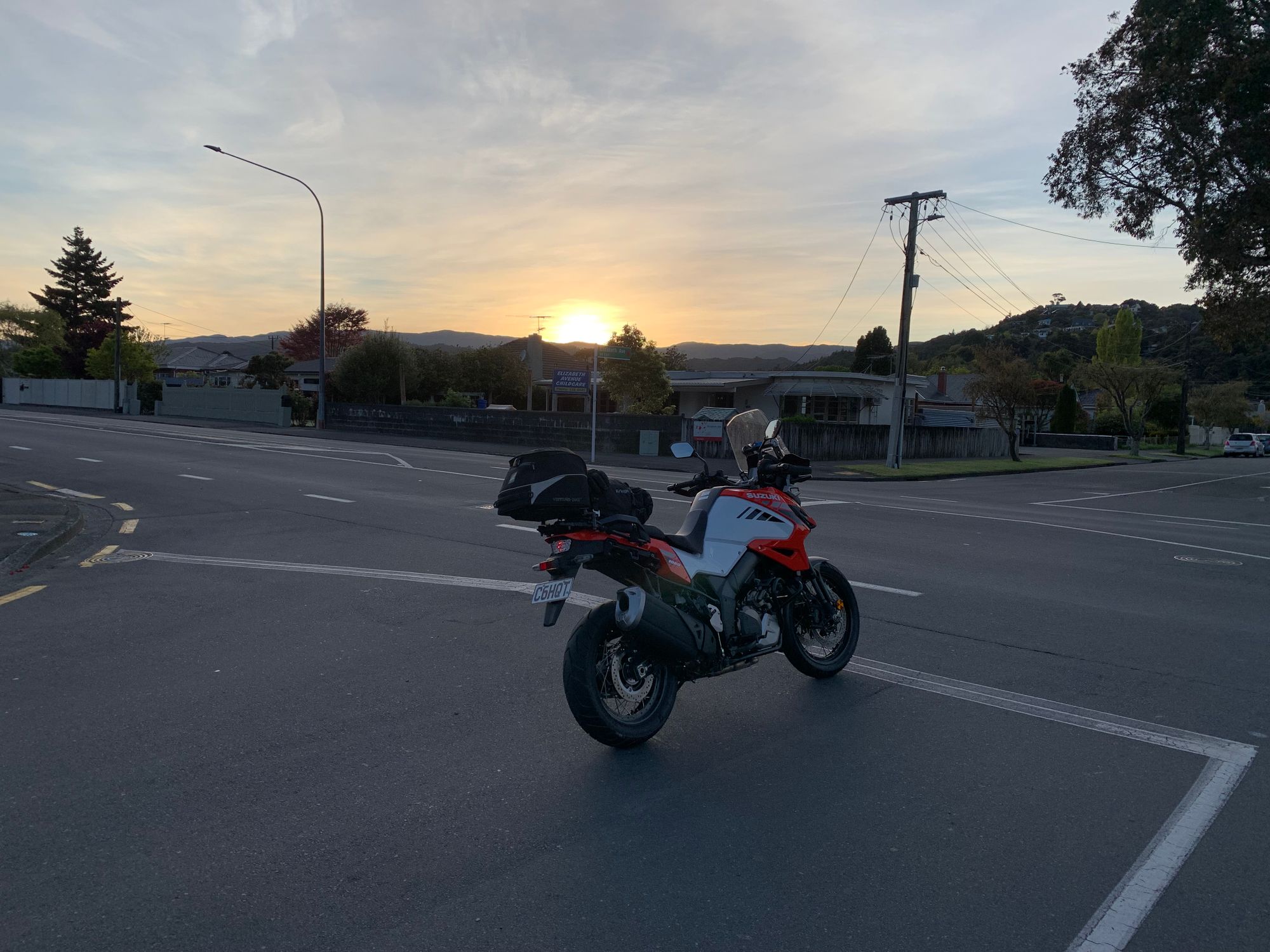 Landing in Picton around midday, we were greeted with warm temperate weather, a thin layer of cloud with the sun peaking through. Perfect riding conditions.
We set our Beeline devices with the GPX file we created earlier called "Labour Weekend Ride - Day 1" and got on with the job of making our way down SH1 to Blenheim to fuel up, then on to Taylor pass.
The road to Taylor's pass is a funny one. You access it from a random suburb out the back of Blenheim. It looks like you're riding through any old subdivision, until you suddenly break out into the countryside, and start winding your way over the hill. There is roughly about 10km of gravel from memory, and when you come down the other side you find yourself joining Awatere valley road before you know it. We paused at the intersection to grab a couple of photos and had a chat with an old mate on an electric bicycle.
From here we headed south on Awatere Valley road, which it turns out back in July had been quite badly damaged by flooding with complete sections washed away. we didn't know this at the time though, crews had done a great job restoring access. Another thing we didn't know at the time and wasn't made very clear by the local council was that Awatere valley road was actually only open to residents. Looking back on it now, this seems like a gross overreaction as apart from a couple of sections of gravel, we couldn't see anything wrong with the road.
We continued south for about 30 kilometers until we were flagged down by a guy on a DR650, and his mate on a black Tenere 700. Apparently, they go faster in black I am informed. These guys told us they had been down to the northern gate of the Molesworth station, around another 50 kilometers south from where they had stopped us. They had turned around as the gate had not been unlocked.  This confused us at the time as all the research I had done leading up to the trip stated the gate would be unlocked from 7 am on Saturday of Labour weekend. It was now around 2 pm on the Saturday of labor weekend and the gate was closed... what were we going to do? ride up to the gate and jump it? well maybe if we had smaller enduro bikes that may have been an option. The frustrating thing was we had heard from other riders that the southern gate was open, so we could in fact access the same northern boundary gate from both sides...
We were then told the best bet to get to our accommodation for the night in Waiau was to backtrack up Awatere valley road to Seddon, get on SH1 and ride south through Kaikoura, hang a right and go past Mt Lyford, and on to Waiau that way. this would add around 200kilometers to our trip, and see us roll into Waiau about 7:30 pm. So a bit pissed off, we packed up our cameras and hightailed it back to Seddon.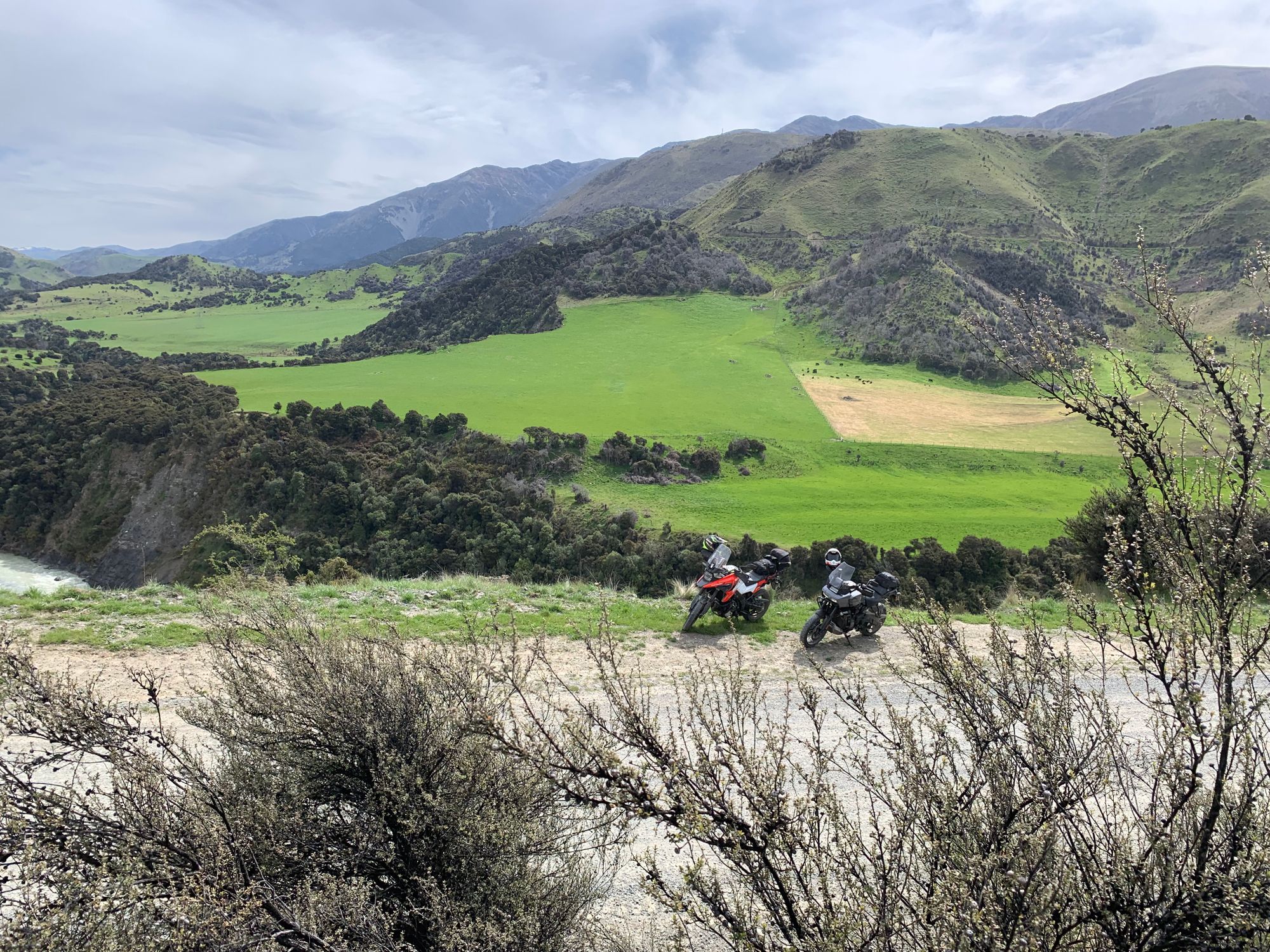 Rolling down SH1 north of Kaikoura, we felt the temperature drop, and the read-out on both bikes was showing a cool 14degrees. I hadn't traveled this piece of the road since the rebuild and it's a massive improvement. There wasn't much traffic, and we were able to set the cruise control and take in the rolling corners as we snaked our way south between mountains and sea. Stopping for a breather in Kaikoura, we then took a right just south of the township and made our way towards Mt Lyford. More rolling left, right, left, right corners, when suddenly, coming off a one-lane bridge, On the Harley behind Todd, I was showered with a sprinkle of white. Todd in front had run over a patch of spilled wet paint and this had strayed all over the Harley. I pulled over and quickly set to work getting as much of it off the bike as I could before it dried, using my only rag. We found that it had sprayed all up under the V-Strom also. We removed as much as we could and carried on towards Waiau, Rolling into town slightly ahead of schedule, at 7:15 pm. We parked the bikes up, glad to be off them after 7 hours of riding, lubed the chains, unclipped our Kriega packs, and headed inside to relax.
Day 2
I woke early, around 7 am, and set about packing up my gear. For some reason when on bike trips like this I have a bad habit of getting into my accommodation and my bag just exploding. I had charged all my devices, including Phone, Cardo Packtalk Bold, 2 Cameras, but interestingly the Beeline had only used 9% of its battery the previous day. This makes me think it would be good for as much as a week-long trip on the bike with minimal charging.
Bikes packed up, we pushed them out of the motor camp car park so as not to disturb the rest of the residents, and once out on the street, fired them into life. After a quick warm-up, we were on the long straight flat roads Canterbury is known for, destination, Culverden, for breakfast at the Red Post Cafe and a splash of fuel.
By this time I had spent a lot of time on the V-Strom, and Todd had really gotten to know the Pan America. If asked which I preferred, I was struggling to find an answer, but I was leaning slightly towards the Suzuki, mainly because of how familiar it felt. Very Similar to my Tenere 700 in ergonomics. I also preferred the way the selectable rider modes, TC and ABS worked. on the VStrom, you essentially have 3 sliding scales to decide how you want the bike to perform. You have the option of A, B or C for throttle mapping, 4 levels of TC, and 2 levels of ABS.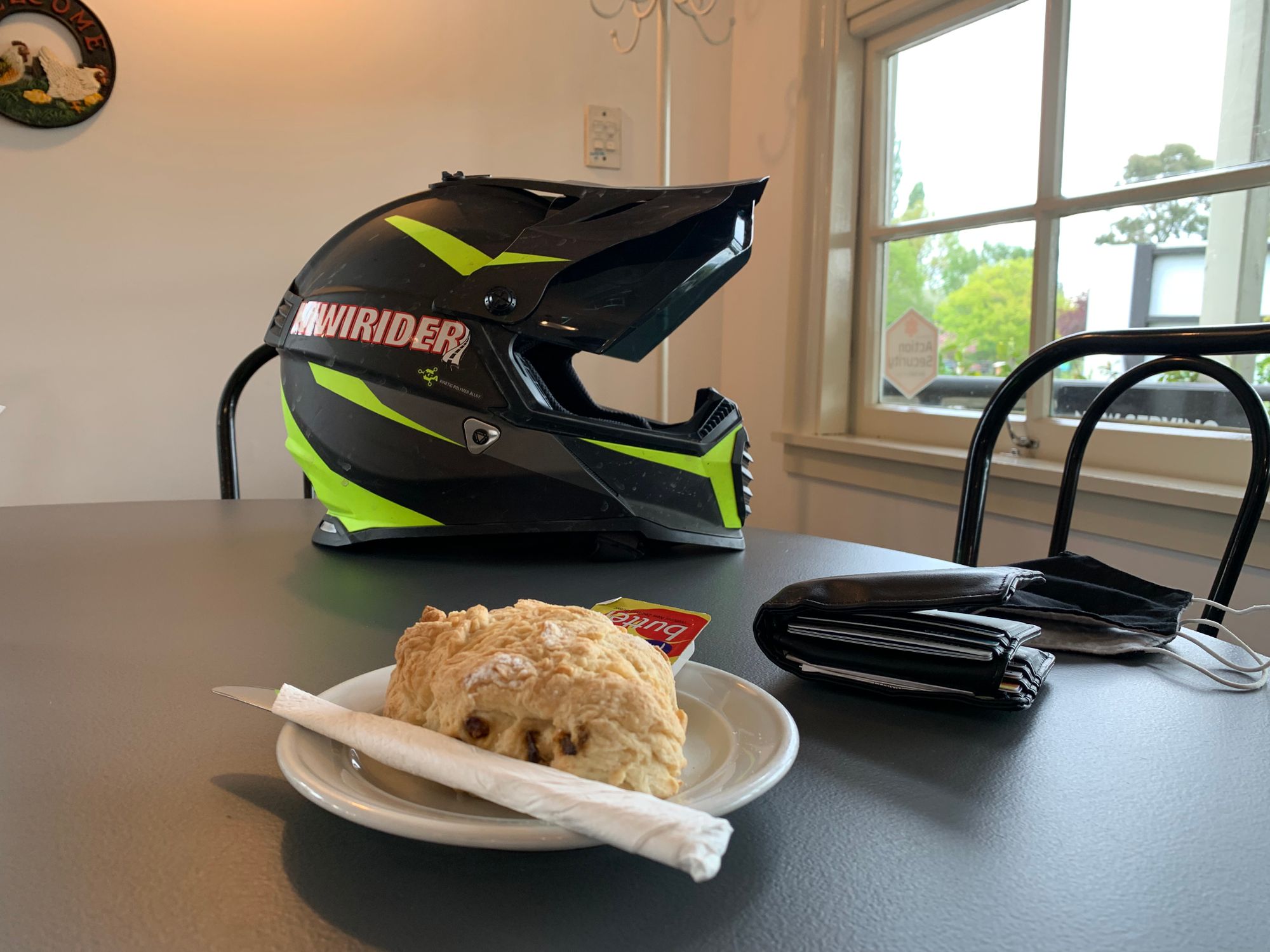 Breakfast and fuel done, we set the Beelines once again, using our "Molesworth Day 3" GPX files, and set off for Murchison via the Lewis Pass.
Where the previous day had offered views of the sea, with wide-open SH2 corners, Day 2 on the Lewis pass saw us carving up tighter, yet still flowing twisties through Forrest. No time for cruise control here, the Vstrom was all about SDMS mode A, 3rd and 4th gear banked turns and showing why it's such a popular bike. The Harley was really making a name for itself in sport mode and WOW, what a touring bike. Flicking between Street and Sport modes, you could really feel the suspension stiffen up, and the power becomes more available. Sport mode is really all-out attack mode, where Street mode still has plenty of power, but kind of mops your brow and tells you everything is going to be alright. Both bikes absolutely ate up the Lewis pass. We stopped around the halfway point and swapped bikes. Todd had been going on about how great the Pan America's seat was, and it was only now after 2 minutes on the Pan America that I realized how hard the V-Strom's seat actually was. That's probably the first thing on the list of modifications for the V-Strom 1050 if I was ever to own one. It's fine for commuting, or short rides, and I actually appreciated the slightly firmer seat when off-road, but 3 days in the saddle, touring really does require something a little kinder to your rear end.
We stopped in Murchison for a quick coffee and to plan our next moves, and noticed a couple of DR650's across the road. Turns out the guys who had stopped us on the way to the Molesworth gate, had decided to come the same way as we had. We cracked it for a quick chat, then went out separate ways.
On an earlier trip, we had visited the quaint little lakeside village of St Arnaud, where it seems any motorcyclist passing through takes the same photo. I explained this to Todd, and given he had never been there before, we agreed it would be rude not to pop in ourselves. After all, it was only 11 am, and it was only about a 30km detour, plus the road from St Arnaud back to Nelson is an awesome piece of twisty State Highway. Once again setting the beelines, we were off.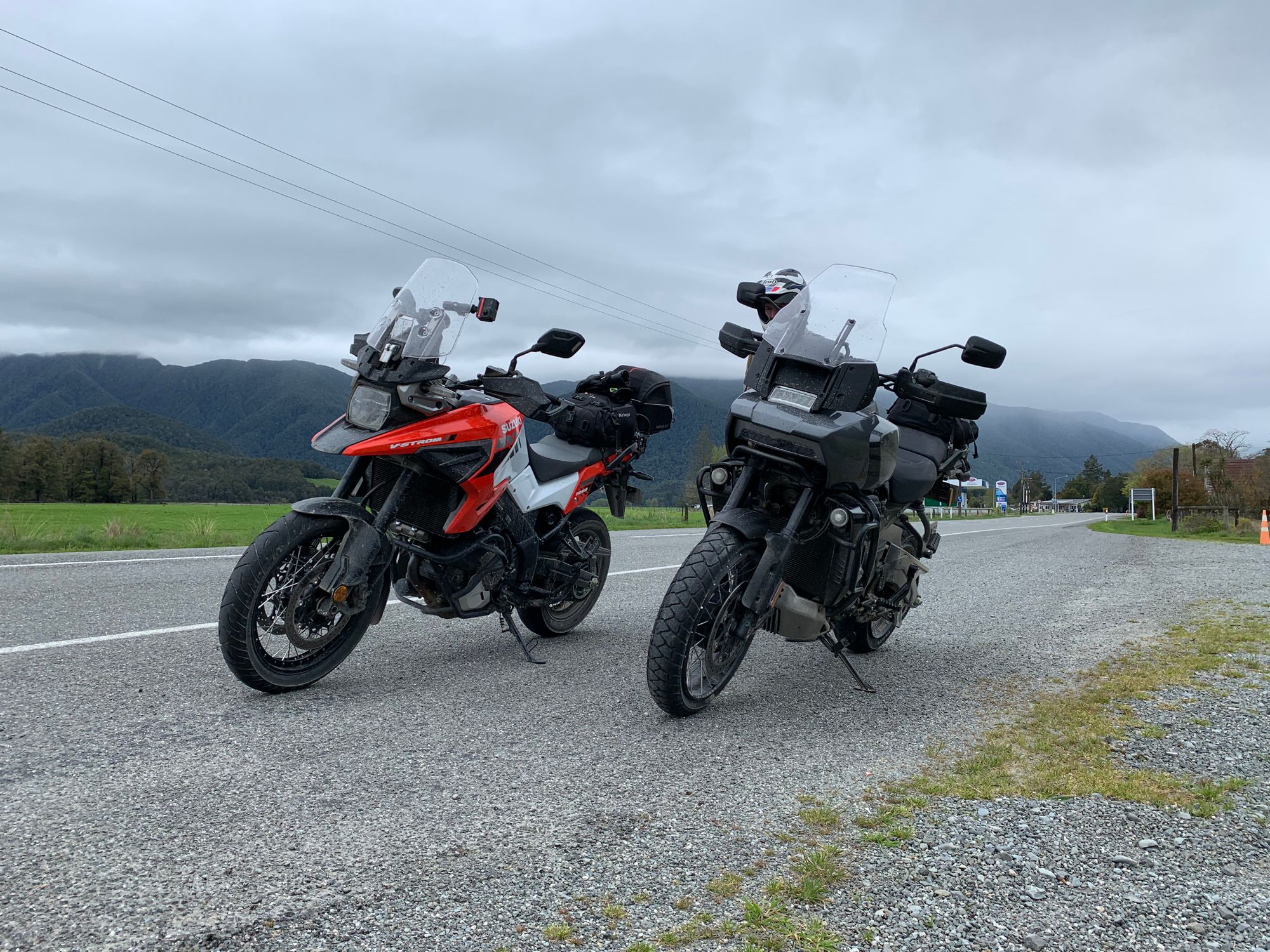 It's amazing who you end up talking to when you're on a motorcycle trip, everywhere you stop, someone wants to come and talk about your bikes, or recount the days when they rode. We had plenty of people asking about the Harley, which is what you would expect. It's Harley-Davidson's first non-cruiser. It's a big deal. St Arnaud was no exception, with a few good chats with current and ex riders.
Having been on the bike for about 5 hours now, I was starting to feel a bit hungry. I remembered a really good bakery on the way from St Arnaud to Nelson, so we once again set the Beelines, and got on the road. At this point, for me to describe the riding, I am running out of words that I haven't already used. Lefty, righty, twisty, and flowing are all that really comes to mind, and with the Cardo Packtalk Bold comms kits installed in each of our helmets, the ability to yarn as we rode really made the trip go quickly. We stopped in at the Wakefield Bakery for a chicken pie, so good I went back for a 2nd one, then headed to our accommodation in Nelson for a well-deserved break.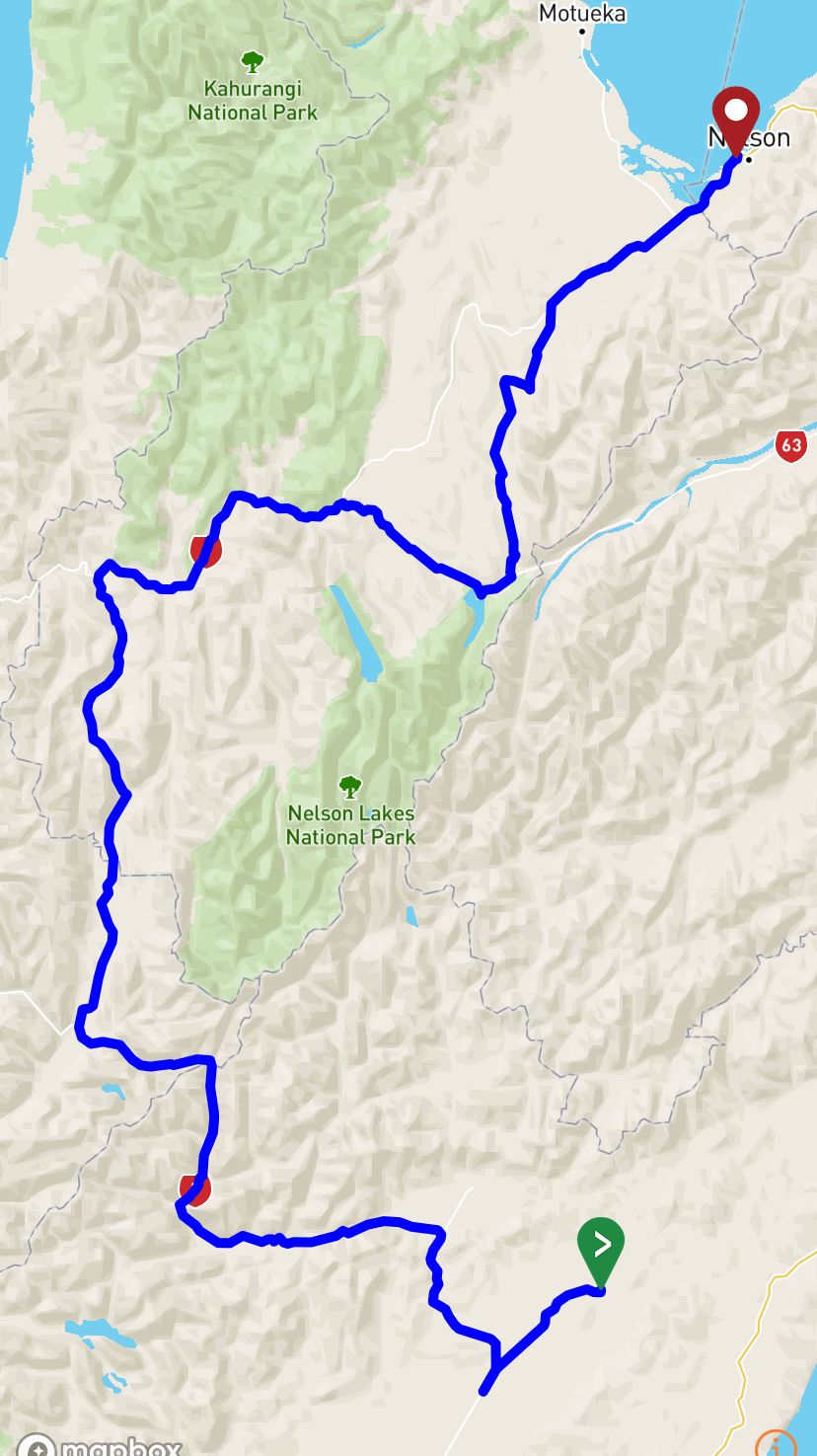 Day 3
Day 3 was our final day, and from Nelson, we had a relatively short ride back to Picton to catch the ferry home. We had planned to take the scenic and relaxed 80kph road from Nelson to Pelorus Bridge, then on to Havelock. From there, we were taking a left and heading along the mostly 50kph Queen Charlotte Drive. This is a similar route to what was planned on the ill-fated Harley-Davidson Pan America Launch. This event was canceled in the end because of a nasty storm, which in fact was the cause of the damage to Awatere Valley road also. But more about that later. Out the door around 8 am, we were almost the only people on the roads. We shot off for a coffee, then eager to get to Picton with plenty of "buffer time" we set off.
Not far out of Nelson, there is an 80kph zone as the road winds over the hills and down to Pelorus Bridge. I was doing about 95kph to catch up to Todd when I came around a right-hander, and we saw our first and only police car of the entire trip. He saw me and flashed his lights, but never actually gave chase. A lucky warning. Note to self: cruise control is great nor not getting speeding tickets. It would have been difficult to explain to Suzuki NZ why they were being sent a speeding ticket for a press bike.
We wound our way up into the hills, with moist wispy clouds around every corner. Pretty much the only other vehicles on the roads were milk tankers. The sun soon broke through and started warming things up and by the time we got to Havelock, we were in full sunshine. Vents on riding gear open we made our way along Queen Charlotte drive at between 30 and 50kph, stopping at around 9 sets of temporary traffic lights. Turns out the storm that canceled the Pan America Launch and caused havoc on Awatere Valley road had really made a mess of this road also. Stunning scenery non the less, and a great, relaxing way to round off a 3 day, 800km ride. We were in Picton before we knew it, and with plenty of time to relax, get some lunch and wait for the ferry.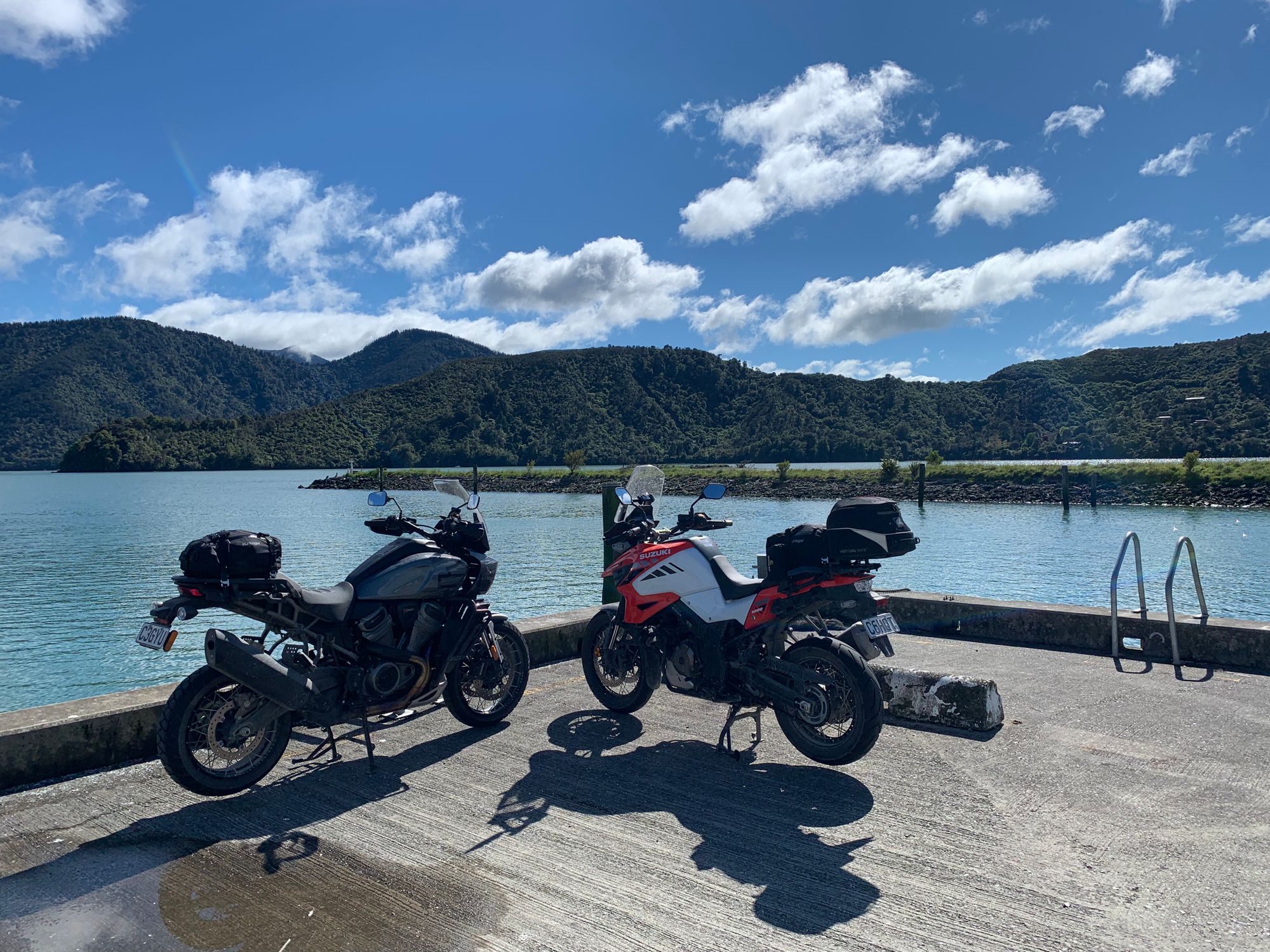 I will share my thoughts individually on the gear we were testing, but people keep asking which bike was better, and that's a really hard question to answer. I know we kind of set out to put the bikes head to head, but they both excelled in different ways. I preferred the VStrom on the gravel, whereas Todd loved the Pan America on the gravel. the Harley was lovely on the high-speed touring sections but the VStrom kept up every step of the way. Each bike had character by the boatload. There is a $10,000 price difference between the bikes, which manifests itself in a few different ways. The Pan America has ALL the tech. Electric Showa suspension, both sets itself but also gives you less control of the setup. If you're the sort of rider who likes to know exactly how the bike is set up and tweak it accordingly, then I would say the V-Strom might be the way to go. However if you, like me struggle to remember what each technical tweak and setting can do, then letting the bike do the setup for you might be a better option. The Pan America we rode, was also set up with the Adaptive ride height system, meaning when you come to a stop the bike lowers by a few centimeters. For those with short legs, this really helps. Neither Todd nor I really "needed" it, but it was quite nice to have. This coupled with the adjustable seat means this bike can really be set up for almost any rider. The seat on the V-Strom was bloody hard after a few hours in the saddle, so the Pan America wins out on the comfort scale. But we didn't really like how the seat was attached to the Harley. It was just kind of sitting there. It wouldn't fall off as the pillion seat held it in place, but I was kind of loose. where the VStrom was tight and solid, and we really appreciated the extra spacers and bolts tucked under the seat used to put the seat in high mode.
We were careful to keep an eye on fuel economy, fueling the bikes up at the same time, and with the same amount. Interestingly, even though the Pan America has around 220cc more engine capacity, both bikes were almost bang-on even in their fuel usage over the total trip.
There is a bit of a gap between the bikes in raw mid and top-end power, with the Revolution Max engine of the Pan America simply having more grunt in a straight line 3 or 4th gear pull, I put this down to the extra engine capacity and variable valve timing. However, the V-Strom could be made to outperform the Pan America under certain controlled criteria. That said when you're restricted to 80, 90, or 100kph, it's like having a jar of cookies on the top shelf of the kitchen cupboard. you know they're there, but you can never actually reach them.
So, which would you own?
Well, truth be told I would be stoked to own either of them, but if I was going to buy a new bike tomorrow and money was no object, I'd get neither of them. Mainly due to fuel economy. Being over 1000cc in both cases, they drink the fuel compared to what I'm used to. In my daily commute, I found each of them to be more than $10 per week more expensive than my 700cc personal bike.
That said if I had to pick one, this is under duress because they are both fantastic bikes. I would probably go for the VStrom. That's not to cast a shadow on the Pan America, but the V-Strom is closer to what I'm used to, and for the purchase price of 19k I would have money left in the budget to fix the seat, put some better adventure rubber on and a couple of other tweaks, and still come in under the 30k of the Harley. I have to be really nitpicky though to make that call. the Harley-Davidson is an amazing bike.... wow never thought I would say something like that. but it is. It's so far removed from what we know a Harley to be, and given this is the first iteration of the Harley adventure spec bike. I am really looking forward to seeing what they do moving forward.
When asked the same question, Todd chose the Harley, saying he was almost embarrassed, but he thought it was just slightly more fun and more comfortable.
keep an eye out for more content from this trip, including reviews on the gear we used, and an in-depth look at the Suzuki VStrom 1050 XT.
Thank you to both Harley-Davidson and Suzuki for lending us the bikes. We are really grateful for the opportunity to ride such amazing bikes. In both cases, head to your local dealer and if they have a demo version, take it out for a ride. people need to ride more bikes. if you don't ride a motorcycle, what do you even do?
Further thankyous must go out to MotoGear, EuroBike, Whites, Dold Industries, Forbes & Davies, Cardo Systems, and Kriega for the support they offered to make this ride happen.