I'm no stranger to Ventura, and I would be most motorcyclists aren't either. Ventura has been made right here in little old New Zealand since the 70's and they have a massive catalogue of bikes they have designed a rack for.
But, I'm sorry to say, most motorcyclists with a Ventura luggage rack are living in the past, and here's why.

The classic Ventura system most people think of is called the Aero Bike-pack system. It consists of a vertical loop which the pack fits over and clips at the bottom. Although incredibly functional, it does promote keeping the weight up high on the bike. That's fine for most tourers and cruisers, but if you're doing something a bit more technical, you'll want to keep the weight as low as possible. and when you don't have a pack on, you don't want this massive car behind you....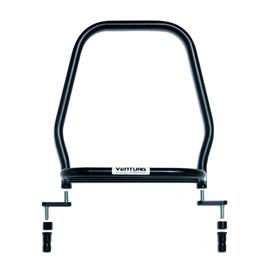 Enter the new generation of Ventura luggage. It's called the EVO system, and instead of a vertical loop, packs attach to the rack horizontally. There is a pocket across the bottom of the pack that you slide over the rack, then do the clips up and you're done. Then when you're not using a pack, you have a low profile luggage rack for strapping larger, more awkward items too. or nothing at all. Whatever works for you.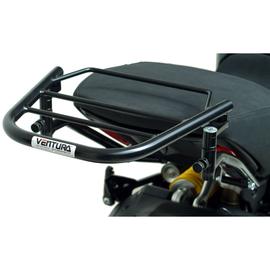 The Kit consists of 3 main parts, the L-bars which are unique for each model of bike, the carrier/rack which is generic across all bikes, and the pack. Because the system is essentially modular, if you have the older style Areo kit, you can simply remove the rack/carrier, and replace it with an EVO carrier/rack. Simple! This is the option that will likely work for most people. as I said, Ventura has been making these luggage solutions for the past 50-odd years. They're stronger and more robust than you might think too. I once did a road trip from Hamilton to Wellington, the long way via Hawkes bay, with the EVO-60 Jet-stream pack on the back of a KTM Duke 690, in the pack I had motocross boots, cameras, clothes, tools and a bunch more crap I didn't really need. There was a fair amount of weight in the pack, and it was perfectly fine. I've also had a Ventura EVO rack on the back of my Tenere 700 for the past 12 months during most of my adventure rides. What can I say?? it hasn't moved... solid.
When it comes to packs, you have 3 main options.
EVO-12 Jet-stream (12 Litre pack)
EVO-22 Jet-stream (22 Litre pack)
EVO-60 Jet-stream (60 Litre pack)
I find the EVO-12 Jet-stream great for commuting or short trips around town. big enough for a bottle of water, jersey, wallet, camera.
The EVO-22 Jet-Stream is my go-to for overnight trips, commuting when I know I'll have to bring something home. This is the pack I've done most of my adventure riding with also.
The EVO-60 Jet-stream is absolutely massive. I reckon it would be big enough for 2 people for a couple of nights, and if you can't fit everything you need in this pack, you may well be taking too much stuff. I used to have this 60L pack on the back of my old MT-07 for commuting, and I would put my entire backpack, with 13" MacBook pro and all my cables etc. in it no problem, instead of carrying it on my back.
One thing to note here is the packs aren't waterproof. They make no claims to be, so the best bet is to use an internal dry bag system. Works fine for me. I have 4 dry bags, fill them up and chuck them in the EVO pack. Done.
So, there you have it. the Ventura EVO luggage solution. Made right here in New Zealand. Ask for it by name from your local bike shop.