Earlier in the year, we got our first look at the new Tiger 900 GT and Rally Pro in person, and now Triumph finally reveal the big brother Tiger 1200 variants they have been teasing us with for the past few months.
The new Triumph Tiger 1200 will come in 2 main variants, GT and Rally, each having a few sub-models.
GT (Base model)
GT Pro
GT Explorer (Top spec road model)
Rally Pro
Rally Explorer (Top spec ADV model)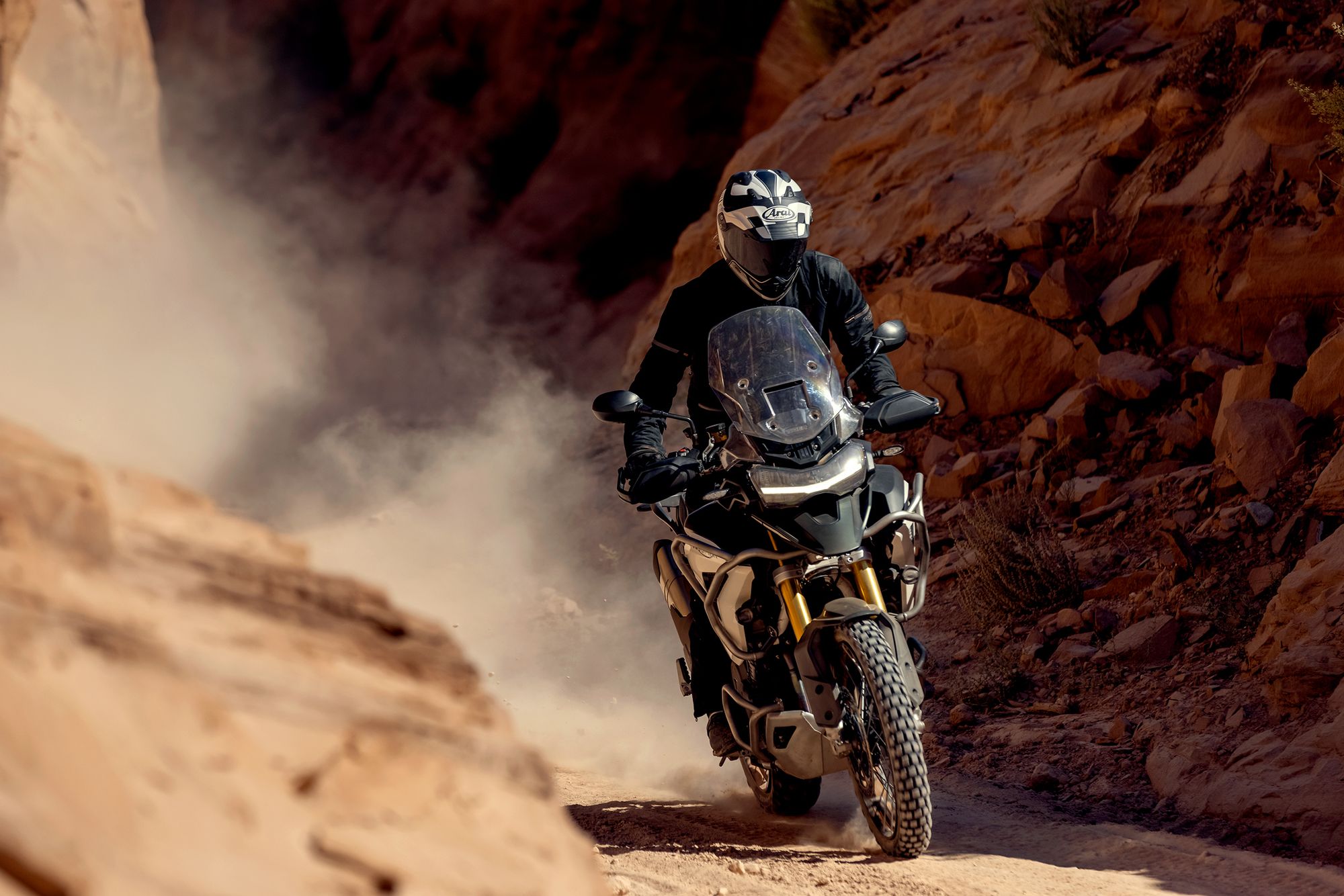 The GT is the more road bias model equipped with 19-inch front and 18 inch rear wheels, and the Rally the more off-road bias, equipped with a 21-inch front and an 18 inch rear. This shows Triumph means business. Up till now, 21 and 18-inch wheel sizes were reserved for dirt bikes, Dual-sports, the Tenere 700 and the KTM Adv bikes.
The new bikes are shaft-driven which is awesome from a maintenance perspective, but more about that later. Powered by a 1160cc T-plane triple engine, putting out 150ps, and with up to a 30L fuel tank, they have the range to boot. This new powerplant is said to reach a peak torque of 130Nm at 7000rpm. Triumph has made a big deal out of comparing these new 1200's to "their closest competition" stating things like these new Tiger 1200s have 14 more HP, they're 17kg lighter than the competition and "the new firing order improves the character and sound of the engine and exhaust".
the GT models get a seat height of 850mm-870mm, while the Rally models gain a bit of height at 875mm-895mm. the seat can also be lowered an additional 20mm with an accessory low seat option. The screen upfront is adjustable from the rider's seat. All models come with handguards as standard, however, there is extra protection in the way of sump guards, skid plates and fuel talk protection bars added the further up the models you go.
The bikes are 25kg lighter than the outgoing model meaning they're going to be a real contender for those wanting to get off-road, without compromise on engine size/capacity. Equipped with Showa Semi-active suspension with 200mm fork travel for the GT model and 220mm of travel for the Rally. all models are equipped with Brembo Stylema monoblock brakes, Magura radial master cylinders, new cornering optimized ABS and traction control.
For the Millennial market, they are jampacked with a lot more tech.
Firstly, (as you would expect) they come with rider modes, all bikes getting Rain, Road, and Sport, but the higher end sub-models also getting the likes of Off-road and Off-Road Pro modes.
The high-end Explorer models also get integrated Blind Spot Radar, with little lights fitted to the wing mirrors, indicating when there is a car in your blind spot.
From the cockpit, there's a 7 inch full TFT display, and My Triumph app integration, Triumph has teamed up with Sena to being out a Triumph branded 50S unit, as well as GoPro integration.
All models apart from the basic GT get a quick shifter and hill hold, these are optional extras for the base GT model. the 2 Explorer models also come with heated rider and pillion seats, and a tire pressure monitoring system.
All models come with a keyless ignition system, which includes a function to turn the key off to immobilize the vehicle.
And finally, these new bikes have MASSIVE service intervals of 10,000miles or 16,000 kilometers before the first major service.
So there, you have it, the long and skinny on Triumph's new Tiger 1200 models. We're looking forward to seeing them in person in NZ early in the new year.