Theres one thing you need to know about me, and that is if you ever want to get me to do something, just say I can't or won't do it...
Over Christmas, My mate Mat was planning a moto camping trip, and said something along the lines of "I would invite you, but I know you don't camp".
DONT CAMP?! well theres only one way to prove him wrong... I need to go camping.

2 weeks out
I got out into the garage and dug out my old 2 man tent, which since buying second hand, I have literally never put up. I put it up in the back yard and was impressed to find it was in pretty good condition. "Ok, well I don't need to buy a new tent, what else do I need?"
I have an old sleeping bag, which is actually still in quite good condition, however its not exactly small when packed up. I could have bought another one in a smaller form factor, but not knowing how much use it would see in the next few years I decided to set about finding a suitable waterproofing solution to transport my current sleeping bag.
I have 2x Kriega OS-12 packs and the OS-Base, plus the Kriega US-20, so I think I'll be ok as far as waterproof luggage space. With the Ventura EVO rack on the back of the bike, I could take a Ventura pack. but I don't think I'll need any more storage space, so instead, I'll use the Ventura EVO rack to strap down the tent, sleeping bag and anything else big and awkward.
I picked up a 30L PVC roll top dry bag from the Market.co.nz for about $15, Perfect for the sleeping bag, and bonus room for a couple of other items like my motocross gear which I plan on wearing for the actual ride. I figured at $15 I don't really care if it only lasts one trip.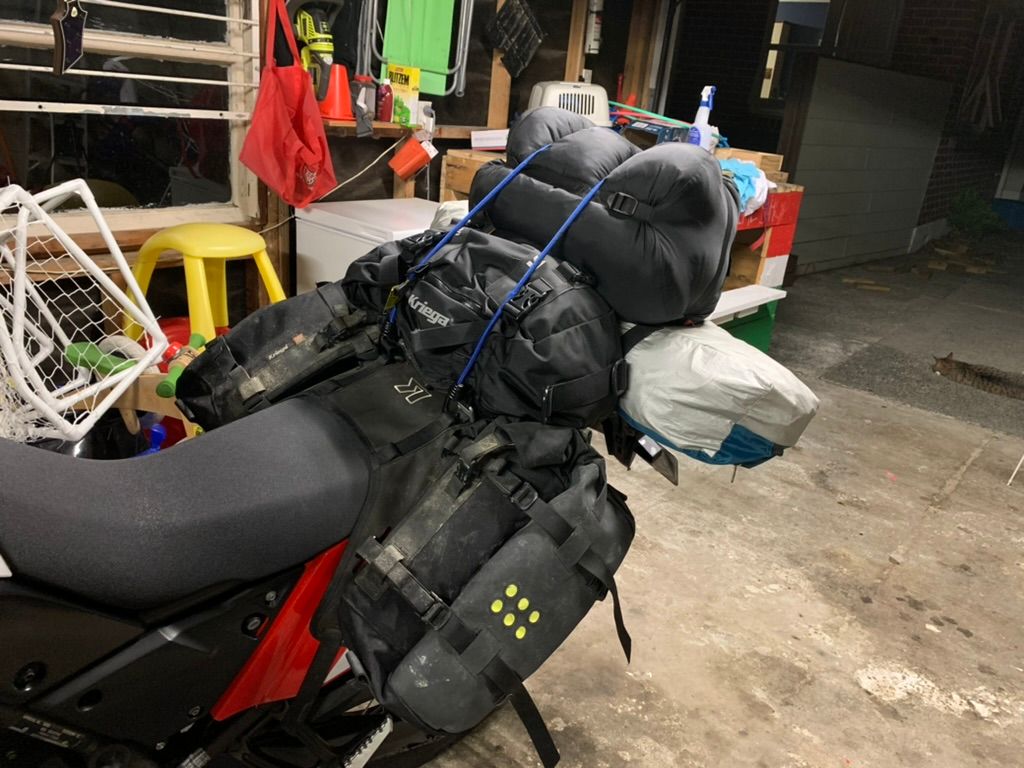 So we're pretty much sorted as far as luggage, I have loads of room to carry more than enough gear. So now we need to work out what I actually need to take with me.
We're staying in a DOC camping ground, which is free, but basically only has a long drop toilet. So I'll need to take cooking gear if I plan on having hot food. I'll need water, cleaning supplies, Food...
I have the sleeping bag, but I had overlooked the need for a mattress of some sort. There are good sleeping mats available from the like of Hunting & Fishing, but these are $80+. I found a $5 blow up air mattress at the Warehouse, which again, if it only lasts one trip then, no dramas. That can go on the Ventura EVO rack under everything else. Seems like I'm asking a lot from the Ventura Rack... maybe I need to lighten the load.
I'm also going to need to be reasonably self sufficient when it comes to bike tools. I'll need the standard tools for my bike, such as 8mm, 10mm, 12mm ring spanners, a set of allen keys, 22mm socket and ratchet, tyre levers, spare tyre tubes. wow this gear list is starting to mount up.
I have a Ryobi One+ battery powered inflator, so I'll take that, and since I'm taking a battery already, I may as well take a big one and my camp lantern also. We're going for 2 nights, so at least one change of clothes would be required, as well as a towel.
I'll wear my motocross boots up there, as well as the 1Tonne Apex jacket and pants. The waterproof liners for both pack down pretty small, so I'll chuck them in a pocket somewhere.
Im going to be running 2x Cardo Packtalk Bold units, one on my helmet, and one connected to the audio recorder to record an episode of Kiwi Rider Podcast. So I'll need a couple of battery banks, I have one 6000mah, and another solar powered one holding 1000mah of juice, so that should be enough to charge the Cardos up, as well as put a bit of power back into my GoPro Hero 9, and Insta360 cameras. My phone will spend most of its time plugged into power on the Quadlock on the bars of my bike, so that should be fine.
5 days before departure
I've decided against taking a laptop or iPad or anything. I'll capture all the media I can while riding, and deal with it all when I get home.
Wow, ok, that's everything all packed. The Tenere 700 feels grossly overweight, time for a quick jaunt into Wellington to road test.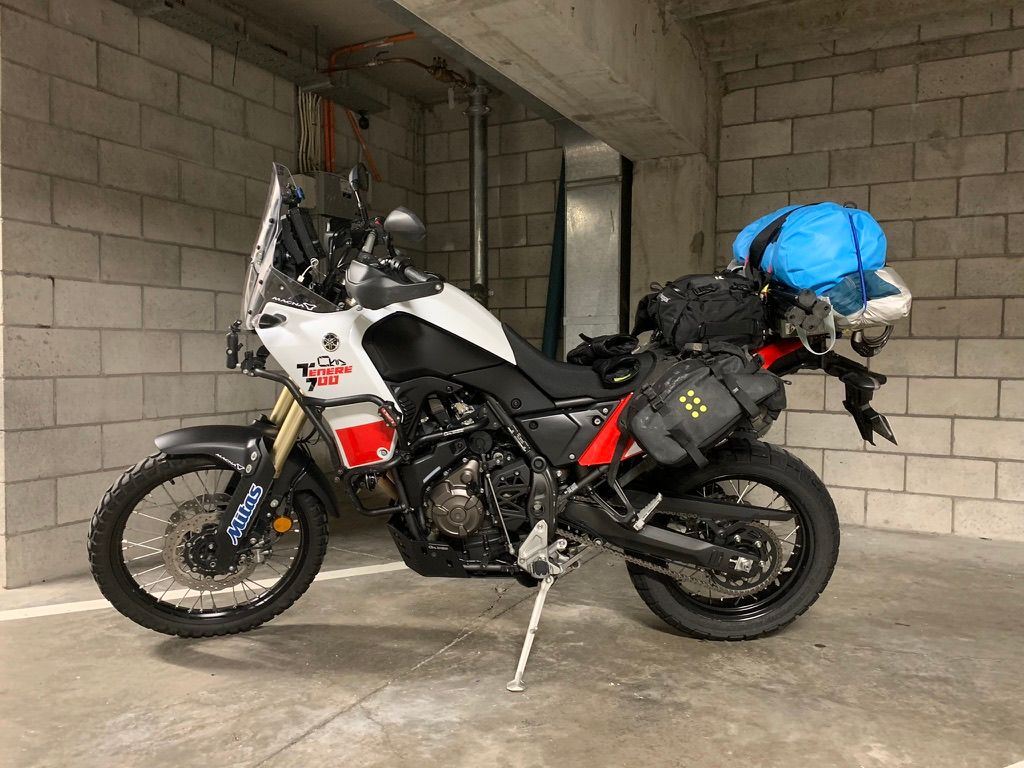 I just got home from road testing the T7 fully loaded for Moto-Camping, and its not flash. It's reasonably stable at speed, but I can feel the weight. At slow speed theres a lot of weight to try and keep in check. I also realised the rear spring preload was only set to about 10, so that is now wound right up to max 24.
I'm not sure what setting I should have the Scottoiler on, but if I remember I'll put that up a little bit. Otherwise I think we're ready to go.
Departure day (Friday)
I couldn't get the day off work because we are short staffed, so the compromise was to leave early, as soon as everything is done. I anticipate getting on the road around 3pm. the bike is packed, and all I have to do is put my gear on and start riding.
We're staying at Pokaka Mill Campsite, on the western side of Mt Ruapehu. Mat has done all the planning on this trip and literally sent me a pin on a map and said "I'll see you there"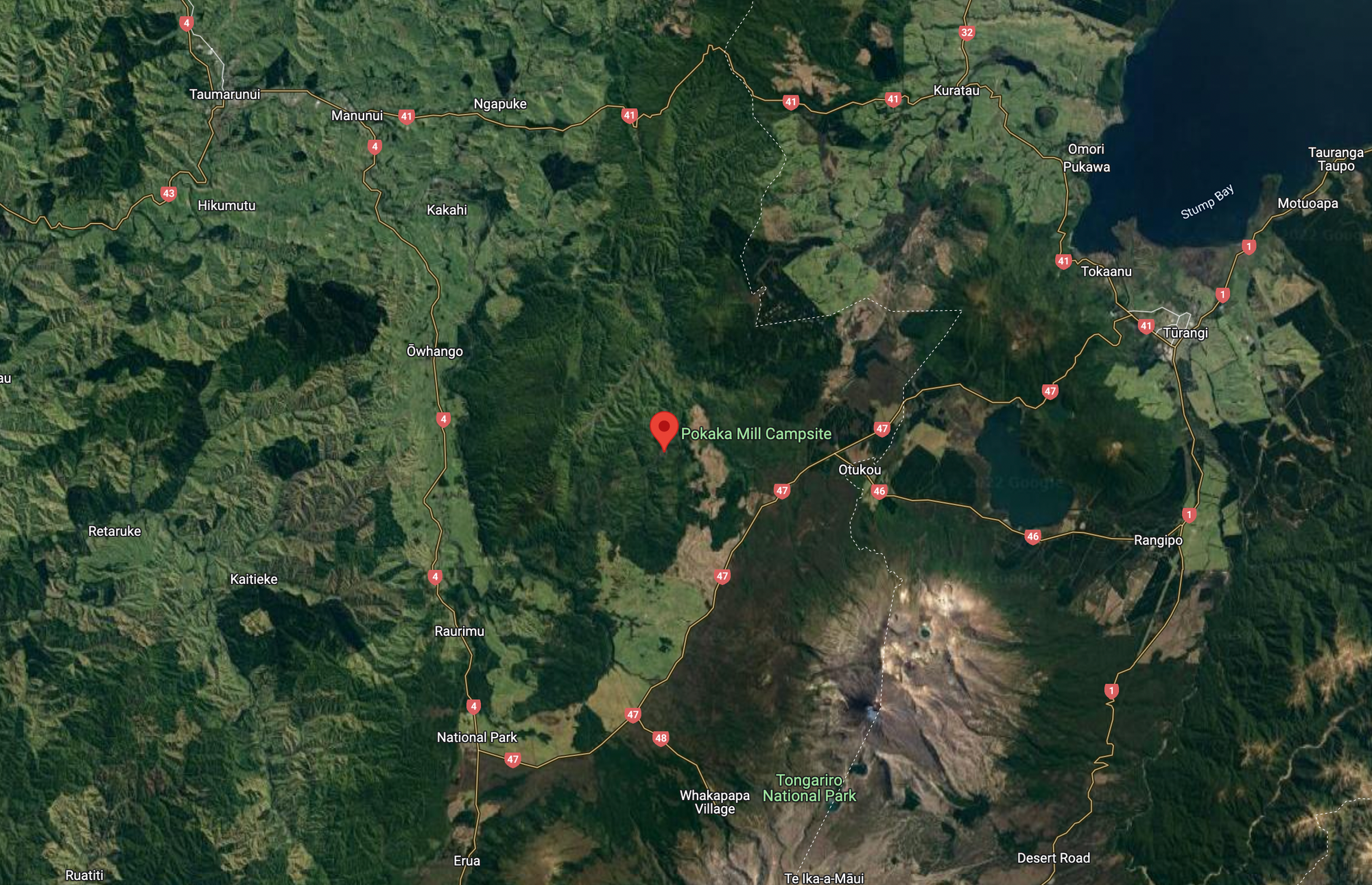 3pm Friday Update
Yeah, So, I'm not going to get away from work at 3pm, We have delays up the line, meaning I'll likely be on the road around 4pm.
4:30pm Friday Update
1 hour and 30 minutes later than I wanted to get away, but I'm on the road. Had I got away from here at 3pm, I would have made camp before dark, but now I am unsure what time I'll get there and how much light there will be.
-----
The weather was clear and sunny, so it was hard to be negative. I left Upper Hutt, and headed over Haywards hill to meet up with State Highway 1 in Plimmerton. I hit traffic just south of Pukerua Bay, meaning I had to lane split. With the added preload and the slightly adjusted load on the back of the bike I was a little more stable at low speeds. I got through the traffic and back up to 80kph on the other side of Pukerua bay. Apart from a lot of road works, the rest of the ride was pretty uneventful.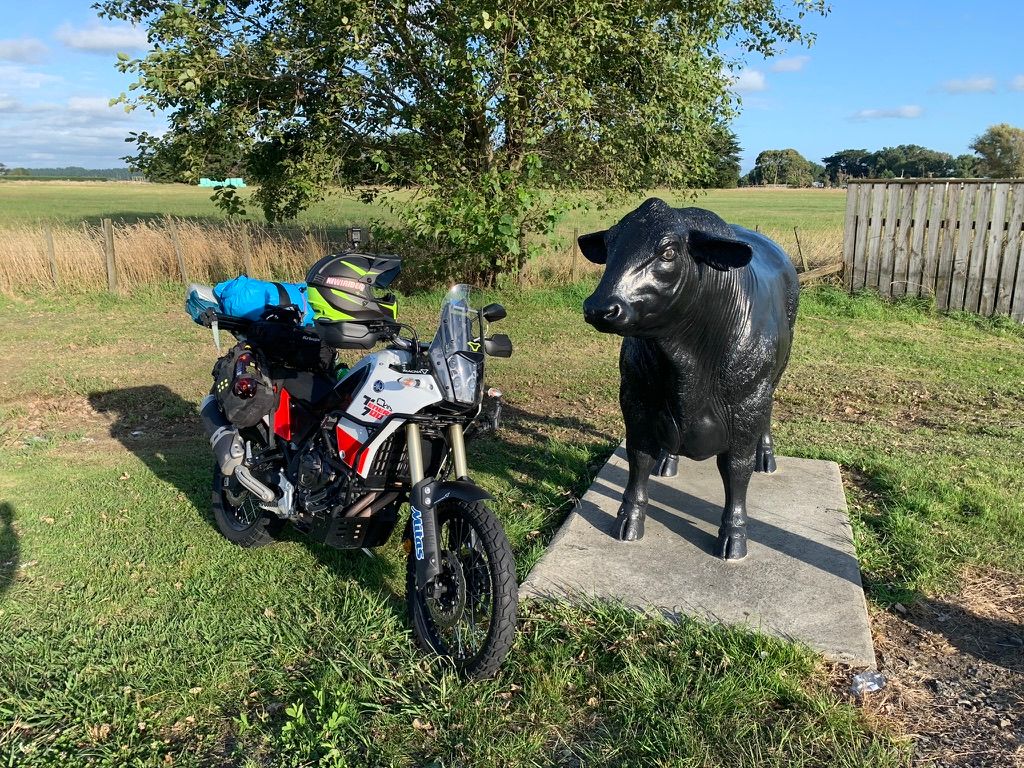 I followed State highway 1 north through Levin, Sanson and Bulls. The sun started getting low in the sky and the shadows lengthened around Taihape, I pressed on to Waiouru, arriving right on sun set.
From Waiouru, I had 2 options, either carry on up SH1, through the Desert Road, hang a left at Rangipo, or hang a left at Waiouru and go via Ohakune and National Park.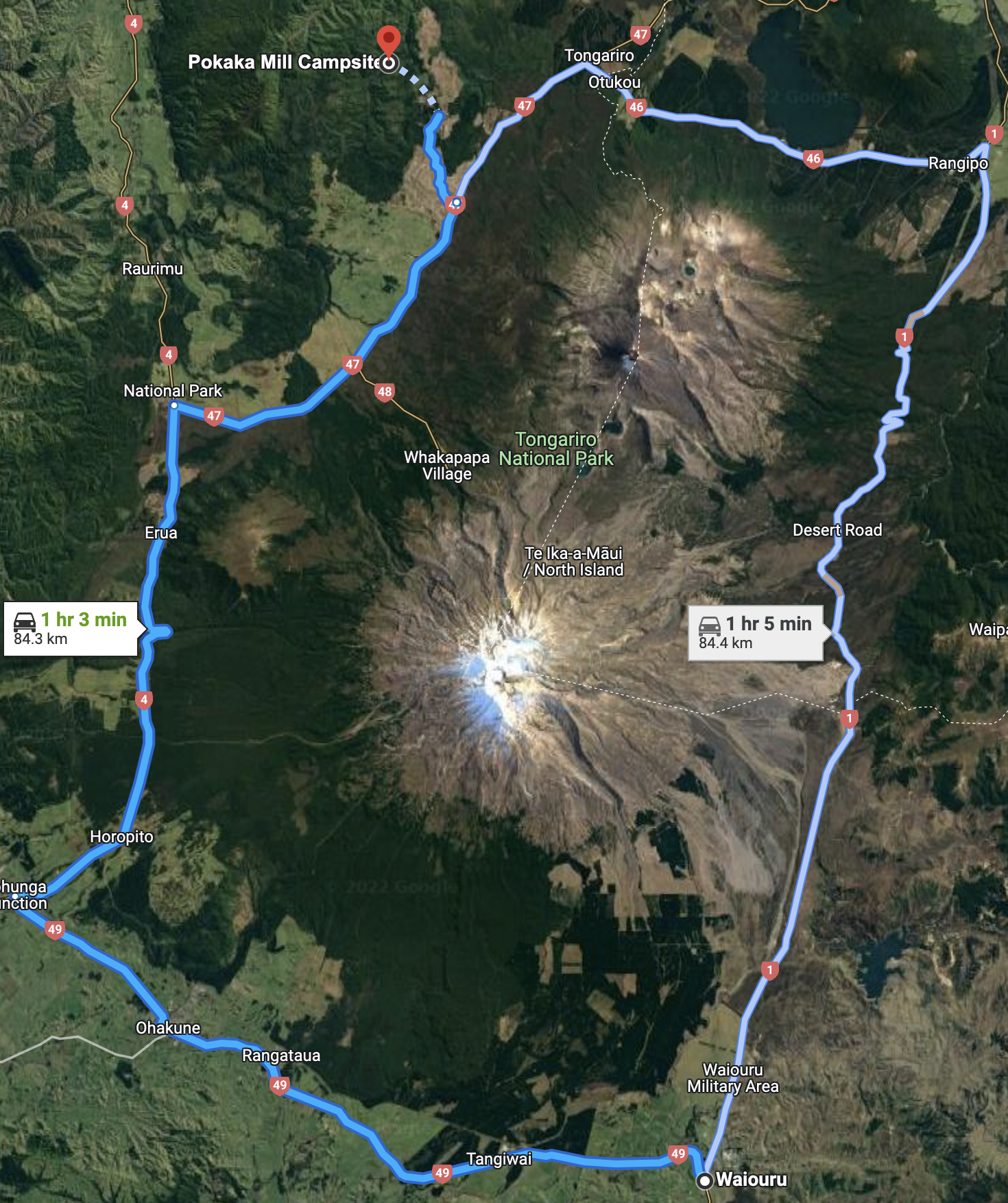 Because I had travelled the desert road many times, and it was slightly straighter, I decided to head this way, but what I had not taken into account was the fact I was wearing a tinted visor. Once out on the desert road, things went completely black, and I couldn't see a thing. Compounding my issues were long stretches of gravel. My speed dropped back considerably, and cars started catching up on me. I let them pass, trying to stay close to them and use their headlights to illuminate any potential hazards. This didn't last long as it was so dark I just had to drop back and take my time. I left Waiouru at around 8:15pm, and made it to the intersection of SH46 and SH47 at around 9:30, a ride that should only have taken around 30 minutes.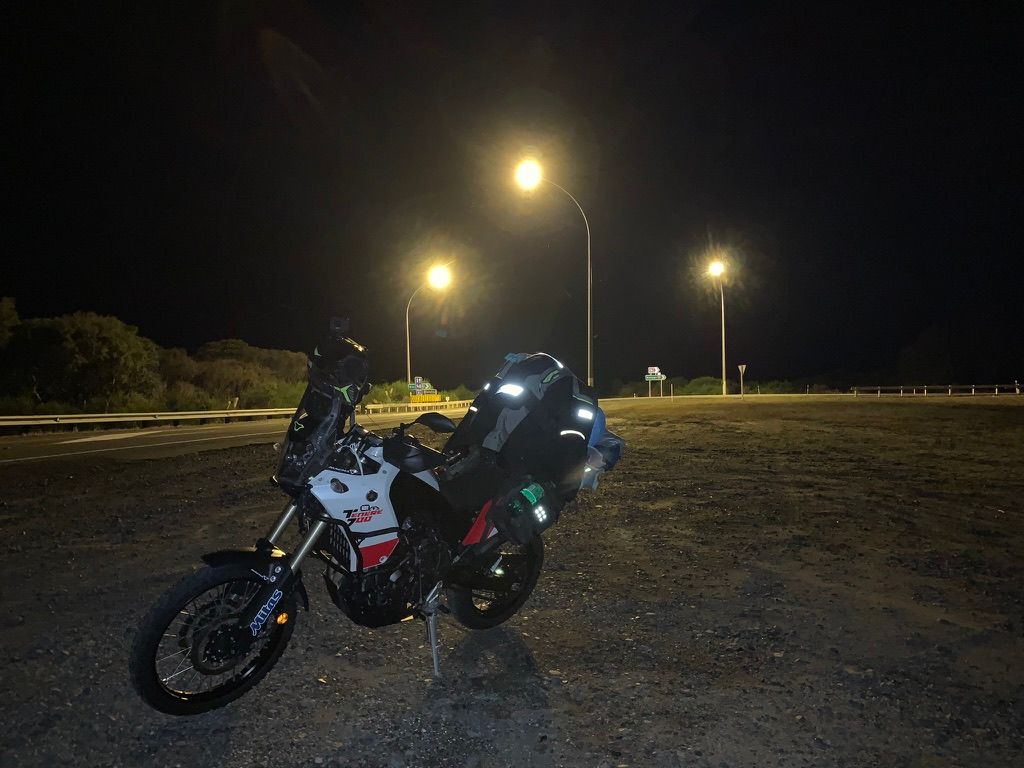 The next challenge was to find the road to Pokaka Mill campsite off SH47, Luckily my Beeline navigation was on the job. Turning off the main road and on to the Pokaka Mill access road my heart sank as it was absolutely pitch black and this road was gravel. What sort of hazards lay in the dark waiting for me? I was convinced this is how I was going to die.
I set off at between 20 and 30kph, guided by my high-beams, and alternating between tinted visor and no visor trying to find a happy medium. This road only went on for about 15 kilometers, but at my current speed it was taking forever!
I finally rolled into camp around 10:15pm.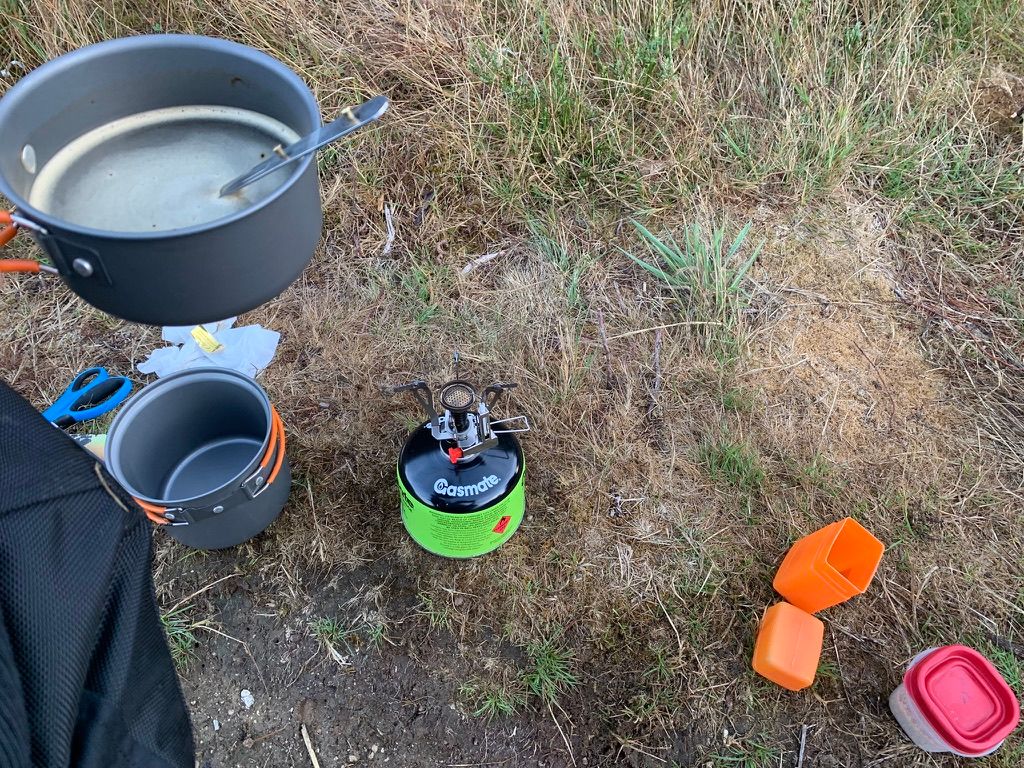 Saturday dawned and I was the first up, I set up my little camp cooker and made a coffee. It's true, maccona really doe shave "Meer immmmm". What a peaceful and tranquil place. A truly beautiful spot, and it seemed completely un-touched. The plan for the day was to wake up at our leisure, and slowly get ready to take on the 42 traverse and possibly Fishers track also. Gradually some of the team started to stir. As it turned out there was a stack of 4wds in the camp with us who planned on doing the 42 Traverse also. I removed the Kriega US-20, and all the gear on the Ventura rack was gone, so the bike was reasonably light with just the OS Base and 2x OS12 packs with my tools. I decided to wear my 1Tonne pants with no thermal or waterproof liner, and just a thin motocross top over a t-shirt. I had on my thin motocross gloves, knee pads inside my Fox Comp 5 motocross boots, so I was well ventilated, if a little under-protected should I come off on the road. I had my LS2 Pioneer Evo helmet on, equipped with Cardo Packtalk bold and tinted visor.
We were up and ready to go around 10am, we made our way out the access road I had ridden in on the night before, this time with much more pace. Turned right at the main road, and rode down about 5 kilometers, before turning right again and heading in on the 42 traverse access road.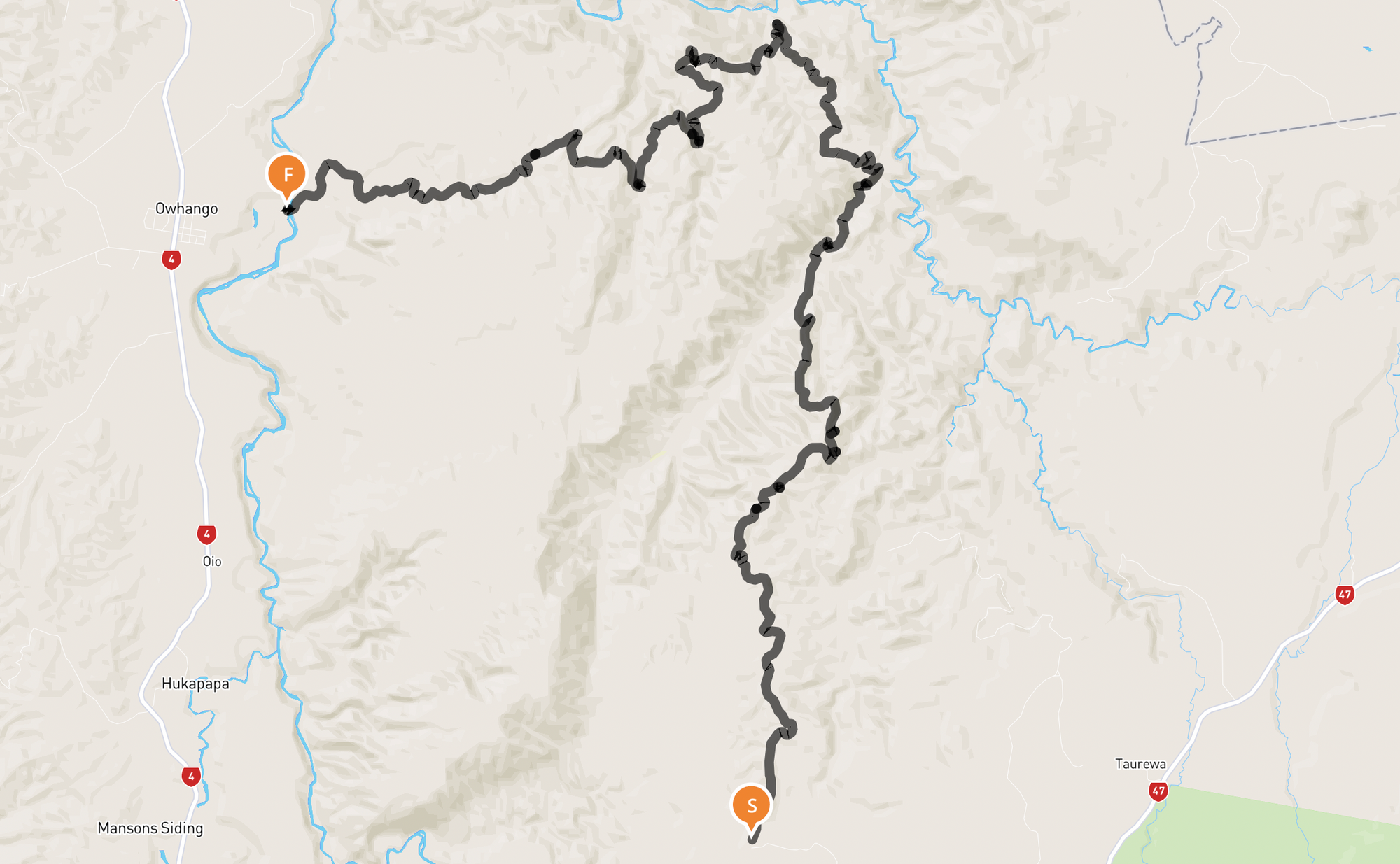 We found out later that we could have headed on to the 42 traverse from Pokaka Mill campsite, but we weren't exactly sure of the route, so decided to go the way we knew. From the main road, its about 12 kilometers to the main carpark and play ground, we had a quick play, then headed off on the 42 Traverse proper. I was a little nervous, having completed the 42T around a year previously, and dropped the bike in a couple of places. We had also had a lot of rain recently, so no one knew exactly how high the rivers might be. The Tenere 700 was feeling good. I was well prepared and had another 12 months experience on the bike over last time.
Around 9 kilometers in to the 42T proper, there is a small offshoot to the right which takes you out to a beautiful lookout on the edge of a cliff. We decided to pause here for a few photos etc.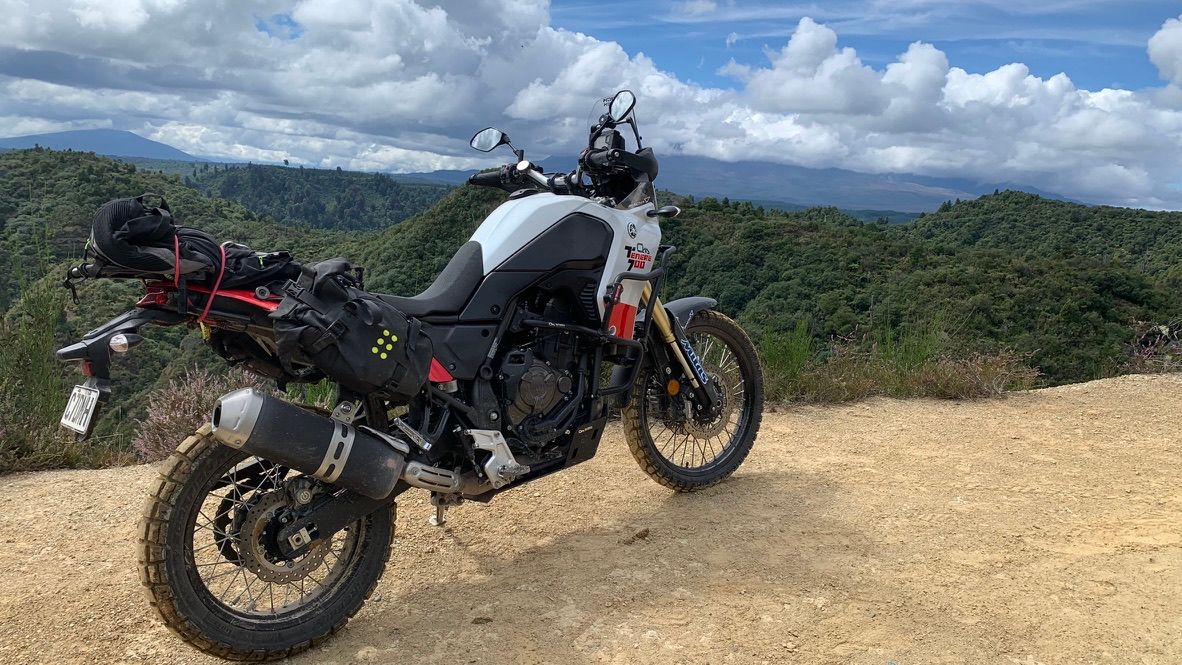 Then got back on the track and quickly found our 4WD friends from camp, they were blocking the main track as they inspected the first big obstacle. It was a big rain rut that had been made worse by countless 4WDs struggling to get through it and churning it up. They let us push through, and although this clay drop into a puddle looked daunting, we all made it through with ease.
The next obstacle on the list was the loose hillclimb I had dropped the bike on and struggled with last time. We came through the river and around the corner to sit at the bottom and look up, a couple of photos and I decided to go first. Wishing everyone luck, I took off, I focussed on maintaining traction, but to my surprise this was the easiest part. I even grabbed second half way up the hill. I got to the top with no problems and sat and filmed everyone else coming up. We all got up the hill with out a single issue and the guys who hadn't been on our trip last time were stood there wondering what we were on about...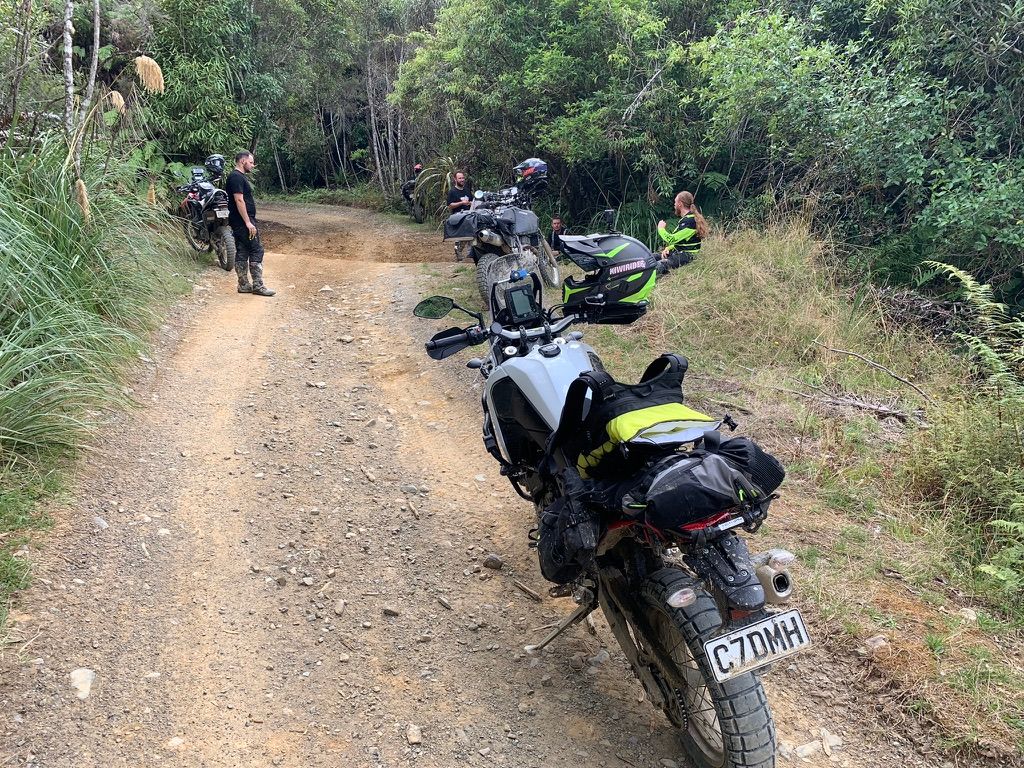 The final obstacle of the 42 Traverse was the larger of the water crossings, but lucky for us it was lower than last time. I did end up having a wee oopsie another 15 kilometers down the road, on a section of track I don't even remember. I was leading and as my energy levels and confidence were at an all time high, there was bound to be an issue. I came around a left hand bend and up to a sharp crest of a hill. Down the other side the left line just rolled on through, where the right track went into a hole full of water. My front wheel went into this hole and stopped. sending me over the handle bars. I winded my self in the process and put a nice big dent in my LS2 Pioneer Evo helmet. It must have been a little bit of a shock on the comms to the guys I was riding with, as we had been chatting away then all they would have herd was some curse words and come over the hill to see me laying on the ground. I took a minute to catch my breath and gather my thoughts. Taking stock and finding I was bruised, but ok, we carried on.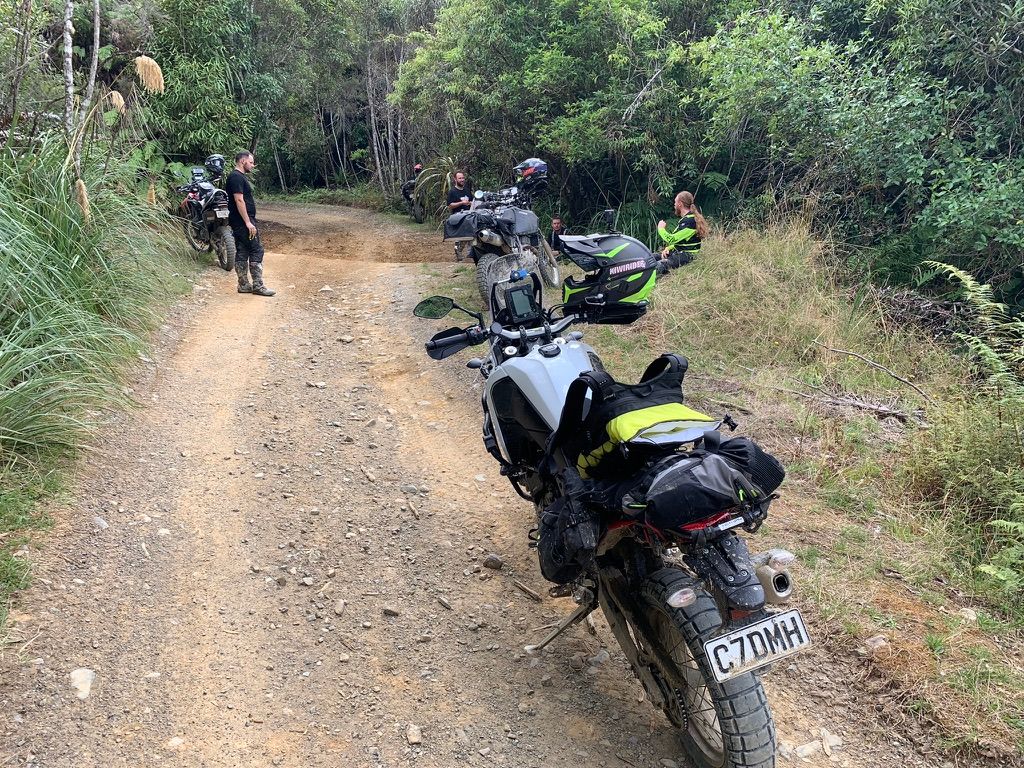 We reached the picnic area and final bridge around 2:30pm, and sat for a few moments to digest what we had just completed.
From here we decided to go and have a look at Fishers track. Fishers track is essentially a single track on a narrow ledge of grass which winds its way up the side of a cliff. You have a rock wall on your right and a massive drop to the valley below on your left. Every rock and corner presents yet more photo opportunities.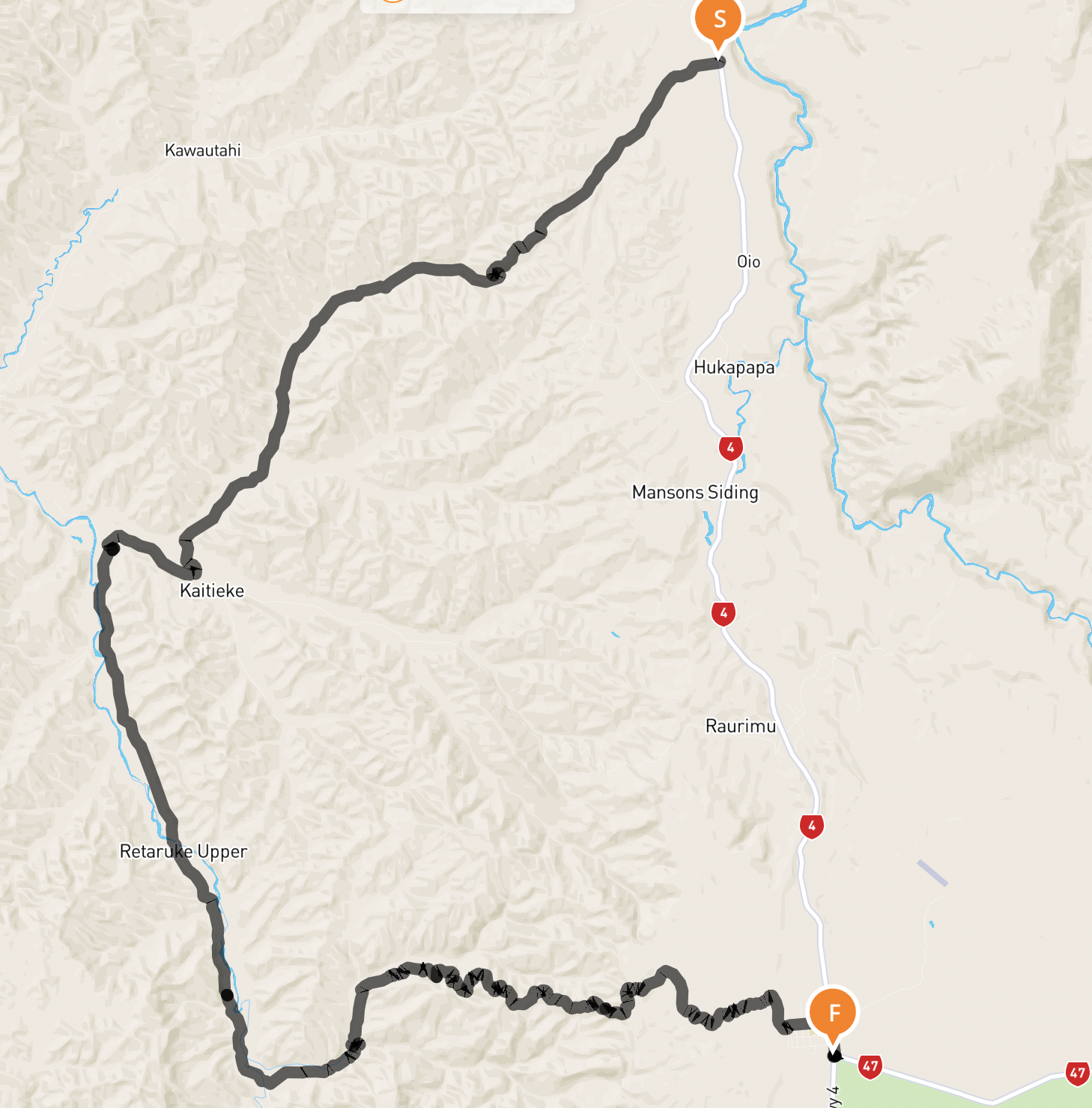 Although dangerous, it's a fairly easy track with some stunning views and only a couple of slippery bits. We found our way up the track, and reaching the top, had fun drifting the back wheels around the corners on the gravel road heading back down the other side to National park.
We got back to camp around 4:30pm, got changed and spent the rest of the night chilling and chatting.
Sunday morning dawned, and having had maybe 45 minutes more sleep than the previous night, I was again first up and packing up my camping gear. By the time everyone else was up I was completely packed up and ready to hit the road.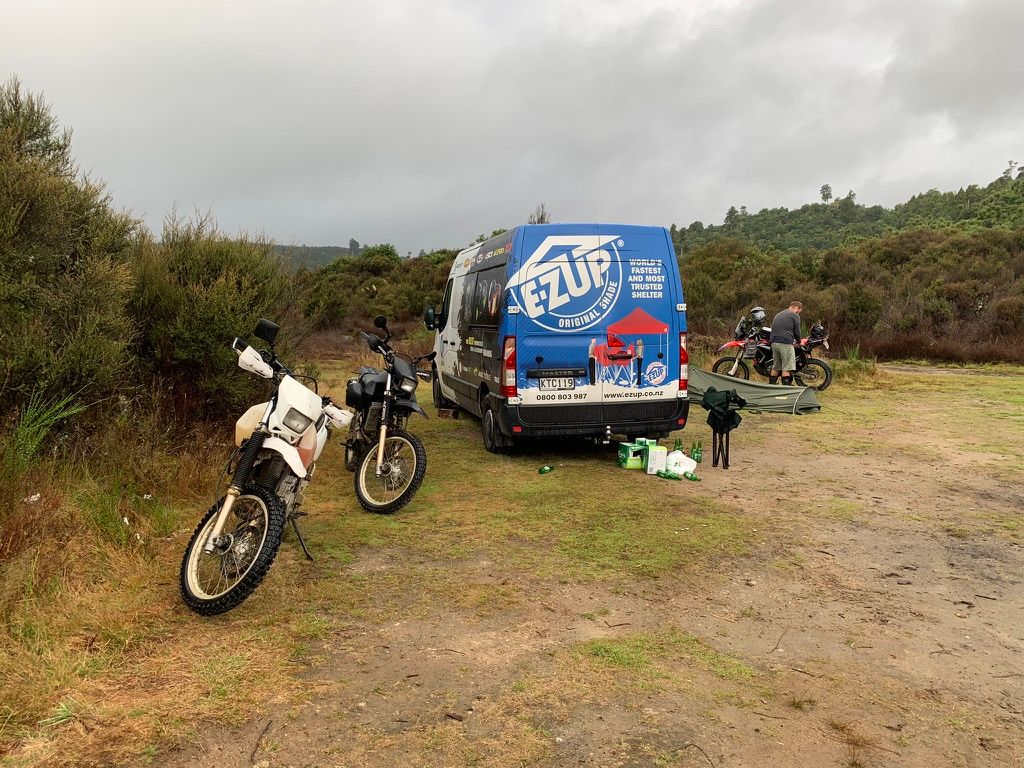 We chatted for a bit, but because I was the only person heading south, I got on the road. I hung a right out of the Pokaka Mill Campsite access road and headed to National Park, It was spitting a bit, but nothing compared to what was to come.
Riding south down SH4 towards Raetahi, I had the option to go left towards Ohakune and Waiouru, or carry on down SH4 to Whanganui and meet back up with SH1 at Bulls. I decided to go straight, and not long after committing to this route the heavens opened. I was riding along at 60kph in an absolute monsoon, till about 30 kilometers from Whanganui when it completely dried out and the temperature shot up to 23 degrees.
From here on back to Wellington I was riding in the dry and moderately temperate conditions. Had I not already got soaked, It would have been rather pleasant.
I got back to Wellington around 3pm, sore, but utterly satisfied with my weekend's adventure. The gear lasted well. everything stayed watertight, the bike absolutely owned the weekend taking anything and everything I could through at it and performing perfectly. and of course I proved to myself, and to Mat, that Ray-ray does camp.
Things to change for next time=
The first thing I would change is maybe getting a cabin or airbnb at Ohakune or National Park... hahaha
But seriously, I would like a smaller sleeping bag, and tent, to make the bulk of everything on the bike a little more manageable. With the load the way it was, I wouldn't like to do any technical riding. Even a bit of mild gravel was less than ideal.
I think I would like to get the suspension on the bike sorted too. It's just too soft from factory. Im maxing out the preload on the rear simply by getting on the bike. I would hate to do the maths with a full load of camping gear and tools. But thats about it. Theres not a lot else I would change. I do need to get a new helmet though.
If you have any questions, please don't hesitate to get in contact and ask.
Email me on [email protected]