I don't profess to know everything about this subject, but with a few mates and because everything else has been cancelled, we decided to hit the road and go camp for a few nights.
Moto Camping... It's like camping, but on a motorcycle, and introduces a series of new challenges. Firstly, one needs to pack light, the challenge is to pack everything you need, and nothing you don't, but still be light enough to be able to get everything on the bike.
With this in mind, its easy to overload your bike, as I have done on this occasion, but more about that later.
One also needs to take into account the weather, we are expecting showers at this early stage, and im nto overly stoked about it, as i do like the creature comforts of a solid waterproof roof over my head, and 240V power easily accessable.
Further challenges are introduced when riding with friends who have managed to pack considerably lighter than you, but generally they turn out to be less well prepared.
For this challenge, I aim to be completely self sufficient. The idea is to camp in a DOC camping ground, which (if I'm lucky) will be equipped with running water and a toilet, and thats about it. I will need to take Sleeping gear, cooking gear, tools for the bike incase of puncture or some other issue. We're talking a fair load of gear.

Ive started by installing my Kriega OS-Base, attached to which is my OS-12 packs. These are 12 litres each and arranged in a sort of pannier style. Between these two packs ill spread my spare tyre tubes, tyre levers, spare brake and clutch levers, sockets and other tools. Over the pillion seat I have my Kriega US-20 dry bag with clothes and electrics. Then on the tail of the bike is the Ventura EVO rack with small 2 man tent, Sleeping bag in a 30l dry sack, camp chain (this is unnecessary but I kinda want it) all held on with a couple of bungy cords and a massive tie down, which will double as a strop for towing if needs be.
Up the front, I have my phone for navigation on the accessory bar, and a 2x USB socket in the aux power outlet, one being plugged into my phone all the time. Finally, and this is optional, I'm still in 2 minds about it, my Kriega T18 backpack.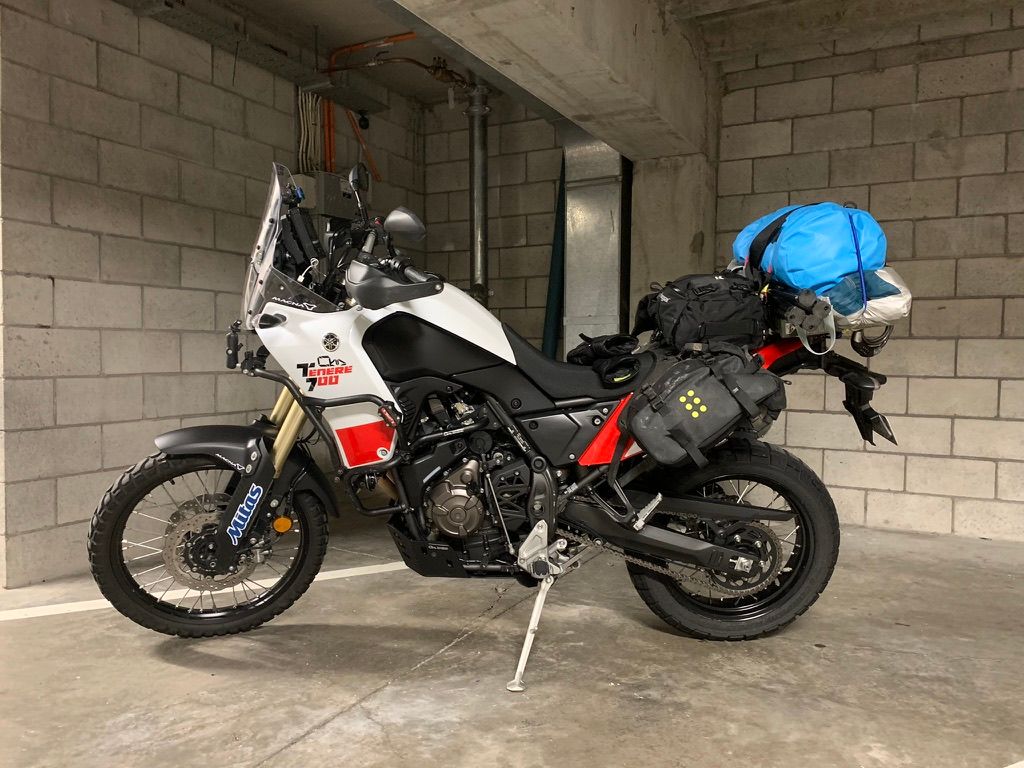 I have road tested this set up, and it felt fine on the open road, although its noticeable there is a lot of weight on the bike. I know from doing the maths that simply with me and a backpack I'm maxing out the top end of the preload adjustment on the bike, so with all this I'm seriously over weight, but I think ill be fine at least to make camp on Friday night. The Ventura rack is rated for around 50kg from memory, so hopefully it will last the distance.
The plan at this stage is to hit the road from Wellington around 3pm Friday. The destination would be somewhere around National Park, to meet up with Mathieu Day-Gillet, and a couple of other friends. We will camp Friday night, then Saturday we will load everything we don't need into a friends van, while we tackle some serious adventure riding.
Look out for part 2 of this story, I'll update on the how the first ride out of wellington went and what we are getting up to for day 2.