Gloves are about as subjective as the looks of your motorcycle. and there are as many options out there as there are bikes... if not more. But there are some points that you really should scrimp on. Safety is one of those. When I look back on the gear I've worn on rides in the past I cringe. long multiday rides with no gloves at all, or motorcross gloves... yikes.
Thankfully these days, I wear proper gear, and lately have been testing out the IXON Ragnar gloves.
What I want in a winter glove is quite different from what i look for in a summer glove. Generally, I like more thermal insulation, which does mean you lose a bit of dexterity in the finger feel.
I want to know that if I come off the bike I will be protected, this means knuckle and palm protection, but especially during winter, I need something that is waterproof. The IXON Ragnar gloves tick all these boxes with solid knuckle protection and reinforced palms, plus they are properly waterproof. Not only do my hands stay dry, but the cuffs of the glove have a wide aperture meaning I can tuck the sleeves of my jacket inside the glove and ensure no water is coming in there either.
Although they are waterproof, you do need to try and keep your hands dry before putting them on, as once your hands are wet, getting the gloves on can be incredibly difficult.
I tested the waterproof claim both during my commute and at home with a bucket of water. Fully submersed, the gloves lasted around 2 minutes before letting a little water in between the fingers. This is pretty good as there's a big difference between full submersion and riding through driving rain.
They're warm enough to ride in all winter long, and no I don't have heated grips, so that is a pretty big call.
Safety:
CE Certified - level 1 KP, compliant with the EN 13594:2015 standard
Knuckle Protector
Palm Slider
Reinforced Palm
Reinforced Sidewall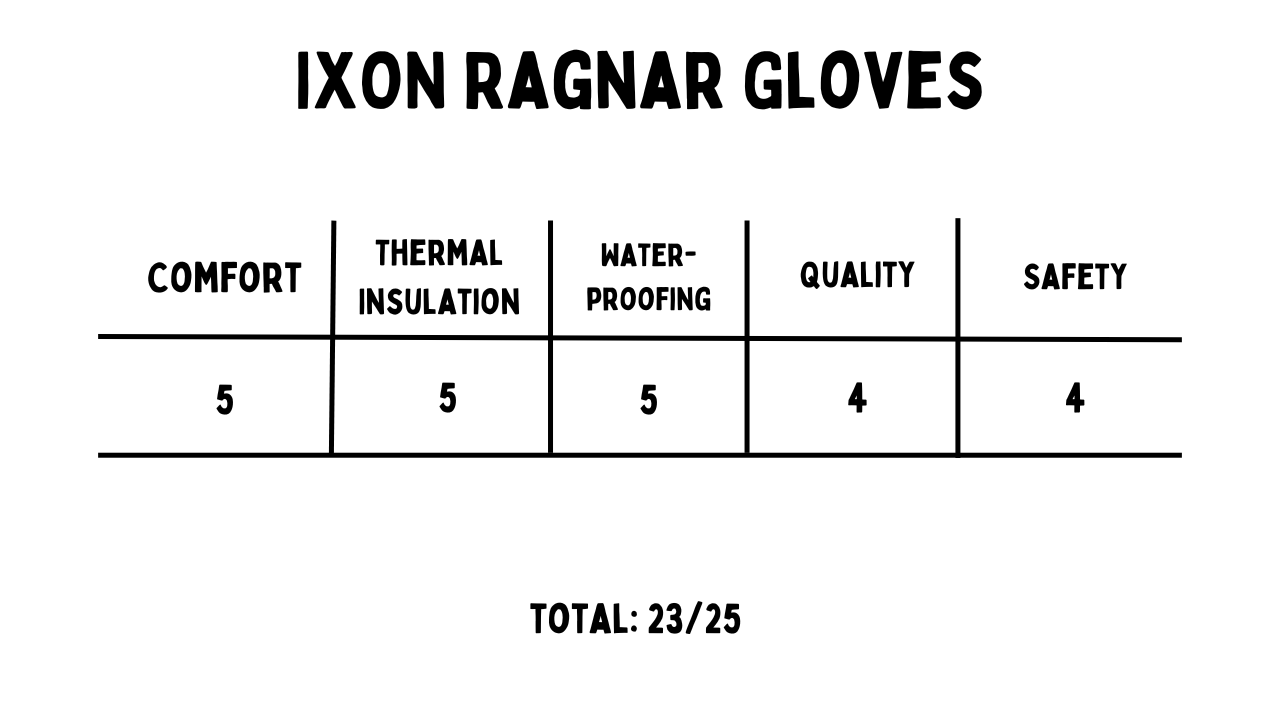 So there you go, out of a possible 25, the IXON Ragnar gloves scored a sold 23, the only improvements are the knuckle protection is slightly bendable, and this could be reinforced further. They also lose 1 point in quality as the stitching around the wrist gusset is starting to pull away just slightly. Otherwise, they're great and easy to recommend.