The team at Cardo have been thinking outside the box, and are stoked to announce the brand new Cardo outdoor.
With this new device, you get all the benefits of your Cardo Packtalk device, but you don't have to be on your motorbike to enjoy them.
"Packtalk Outdoor allows sports enthusiasts to communicate with each other on-the-go and hands-free, without the need for cellular data. Powered by our revolutionary wireless hands-free intercom system DMC, Natural Voice Operation and  Sound by JBL, the Packtalk Outdoor packs the best technology Cardo has to offer into a sleek design for the smoothest communication experience on the market.
Up to 10 hours talk-time, multiple mounting options, and an IP67 waterproof rating mean that you can take your Packtalk Outdoor anywhere, during every season, and share your passion with your friends and family."
Continuing with the out of thinking, Cardo have released a variant on their Packtalk Edge, which is aimed at use with ATVs and 4WDs Called the Packtalk Edge Off-Road.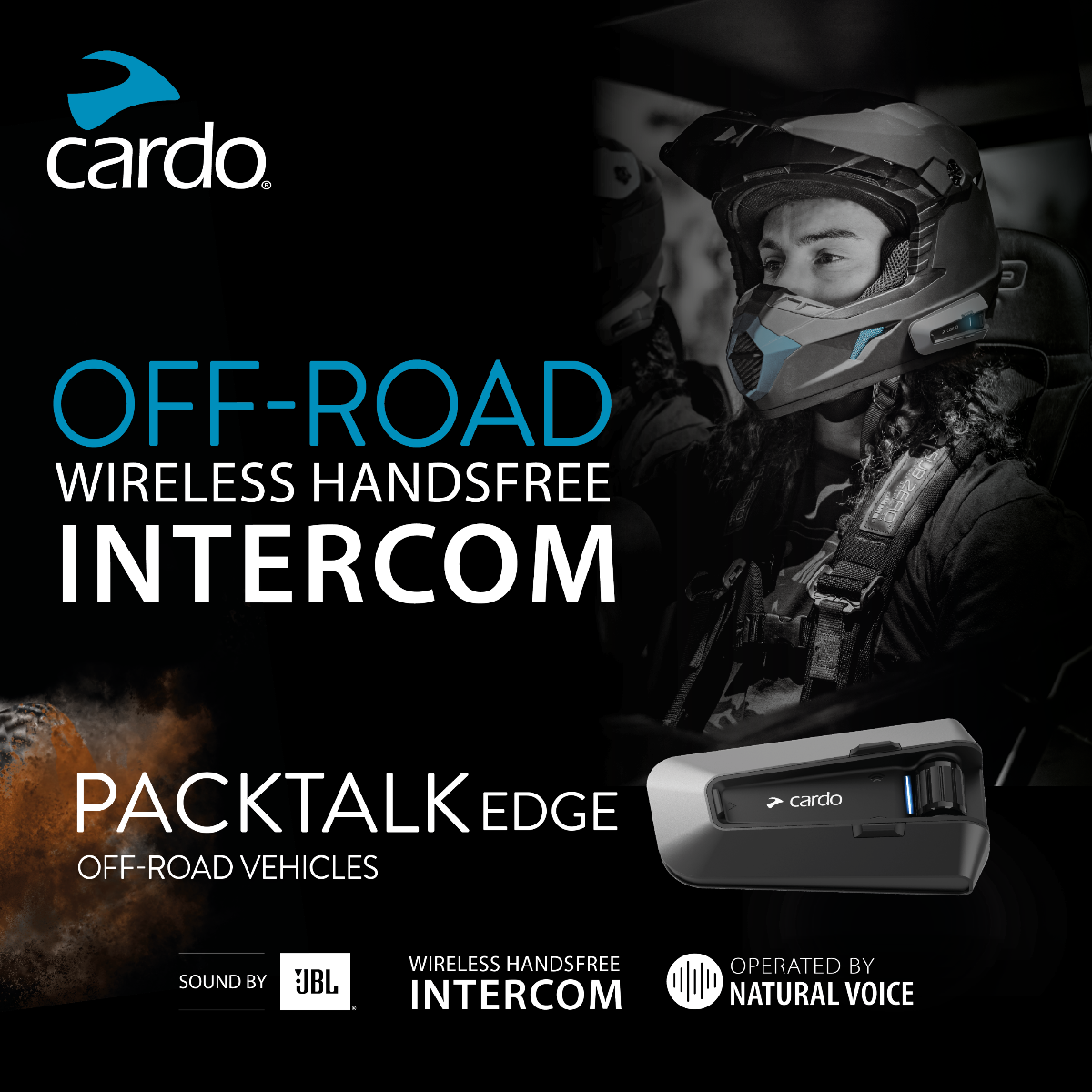 "Discover the benefits of the world's best intercom for the off-road community: wireless and hands-free, the convenience of not being bound to your vehicle, Sound by JBL, natural voice operation, no need for cellular coverage, sand/mud/waterproof, rapid and tool-less installation."
Released a few months ago, the Packtalk Edge is the new flagship product from Cardo, including 13 hours talk time, Speakers by JBL, Bluetooth connection to your phone for music, a built in FM radio, DMC 2.0 connection which is faster and stronger, and although there is no IP waterproof rating on this device, we can confirm use in extreme wet weather has caused no ill effects tot he operation of the unit.
Pre-orders are open on the Cardo site for both of these devices,