Say hello to our new long-term test bike.
The Moto Morini Seiemmezzo is a 649cc parallel twin LAMS approve motorcycle with Italian heritage and puppy-dog playfulness.
It comes in two variants, the STR which is more street-focused, and the SCR (the one I have) which is more of a scrambler.
Tech Specs
Length: 2150mm
Wheelbase: 1425mm
Dry Weight: 200kg
Fuel Capacity: 16L

Braking
Front: Double 298mm DIsc with Brembo floating 2-piston caliper
Rear: Single 255mm disc with Brembo 2 piston caliper
ABS-equipped
Suspension
Front: USD Kayaba 43mm fully adjustable fork, 120mm travel
Rear: Kayaba monoshock, Fully adjustable. 120mm travel
Wheels
Front: 18" Tubeless spoked alloy rim
Rear: 17" Tubeless Spoked alloy rim
Tyres: OE Pirelli MT60RS
Engine
649cc
Parallel twin
Liquid-cooled
54nm torque @ 7000rpm
44kw/61hp @ 8250rpm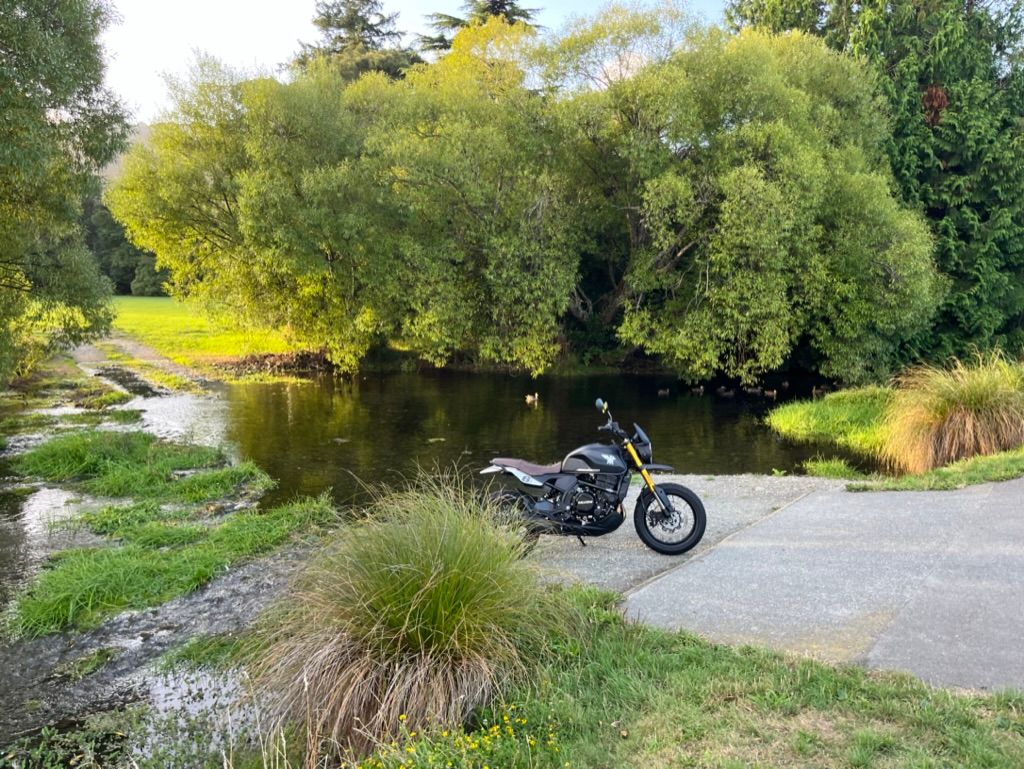 First Ride
This is a cool wee bike. I say wee bike as its very approachable. with a seat height of only 810mm, it's easy to swing a leg over and I can get both feet on the ground comfortably.
Looks are subjective, but I really like the black and silver colour scheme, the leather seat, and the gold fork sets it off. the rear lights and numberplate is mounted on the rear wheel "hugger" which cleans up the tail of the bike and adds a bit of class. With full LED lighting all around, a really nice mono headlight, and a more than functional TFT LCD display, this bike is well equipped when compared to the offerings in the LAMS market from other, possibly more well-known manufacturers. Further to this, the bike has fully adjustable suspension, which you just don't see on LAMS bikes that often. And for those who like a bit of tech, the bike is equipped with a Bluetooth module, meaning you can control music and phone calls from the backlit switchgear. Nice touch!
Power delivery is playful, it feels like a bike that is ready to go, but in a happy way. It's a bit like a puppy, always keen to play, and ready to go for a walk, but I don't feel like I need to keep an eye on it, it's not out to get you and does not give the impression that the first time you turn your back it's going to rip your face off. The throttle response is more than adequate to get around, with some power to play with and enough to get out of trouble in traffic. There is not a mountain of low-end torque, but get the revs up to 1/3 and it gets along very nicely indeed thank you very much.
The bars are nice and wide, giving the 6 1/2 a nimble feeling. Riding it in traffic, I feel I have the ability to maneuver through tight spaces and push it over into corners. The bike feels familiar, even though I've ridden less than 500km on it.
The mirrors are basic, and there is a little bit of vibration through the bars, which makes visibility in the mirrors a little average. They still do the job, but one might be inclined to swap them out for bar-end units.
One thing that I think is head and shoulders above any other LAMS bike (and possibly better than most non-LAMS bikes I've ridden also) is the brakes, they feel utterly fantastic. The front brake lever is a 1 finger job, with an excellent feel, and the rear brake lever is solid, exactly where you want it to be, and hauls the bike up brilliantly.
The Moto Morini Seiemmezzo 6 1/2 SCR is a confidence-inspiring ride, with enough power to keep up at highway speeds, comfortable ergonomics, and all the gear you need but nothing you don't.  
I may be getting a bit over-excited, but this could be one of the best LAMS bikes on the market. It is at least the best LAMS bike of 2023. Ride this back-to-back with the LAMS offering from "big blue" and you might notice the slight lack of low-end torque, but the Moto Morini designers have done a great job, and I think the elegance and visual presence of the bike more than makes up for any perceived lack of engine performance. This is absolutely on par, and in some cases, trumps the offerings from other manufacturers and should be on the test ride list for all riders new and old.