The Harley-Davidson Sportster S is what you get when you give designers a mandate to "make something cool", free reign to create the poster bike of your dreams. a Hero bike. But, more about that shortly.
The Harley-Davidson Sportster S is the second bike to come released by the American iron giant Harley-Davidson to be powered by the Revolution Max 60-degree V-Twin 1252cc engine. And although sharing some componentry with its stablemate the Pan America, it's a completely different beast and meets a completely different segment in today's fragmented motorcycle market.
The stats:
Engine
The engine is actually a slight variant on the Revolution Max found in the Pan America. Dubbed the Revolution Max 1250T. It's still a 1252cc, four stroke 60-degree V-Twin, but the torque has been brought down in the rev range, making max power 121hp / 90kw at 7500 rpm and max torque of 127nm at 6000 rpm. Equipped with DOHC, hydraulic self-adjusting lifters, and VVT on the intake and exhaust valves.
The power-plant is still connected to a 6speed gearbox but now features a belt drive.
Frame
The frame is a steel trellis job, where the engine is a stressed member of the frame and the swing-arm is an alloy tube arrangement.
Wheelbase - 1518mm
Wet Weight - 228kg
Ground Clearance - 93mm
Lean angle 34 degrees
Suspension
The Sportster S has a 43mm inverted fork up front with compression, rebound, and spring preload adjustability, and the rear is a mono-shock with compression, rebound, and hydraulic spring preload adjustability.
Brakes
The bike is equipped with ABS and is hauled up by a single 320mm single disc and a radially mounted monoblock 4-piston caliper up front, and a single 260mm disc with a floating caliper down back.
Wheels & Tyres
Front - 160/70-17 73V Dunlop Harley-Davidson series GT503
Rear - 180/70-16 77V Dunlop Harley-Davidson series GT503
Fuel
Fuel Capacity - 11.8 litres
Fuel Economy - 49 mpg or 4.8 L/100km
Lighting
LEDs all around
Instrumentation
Full-Colour round TFT display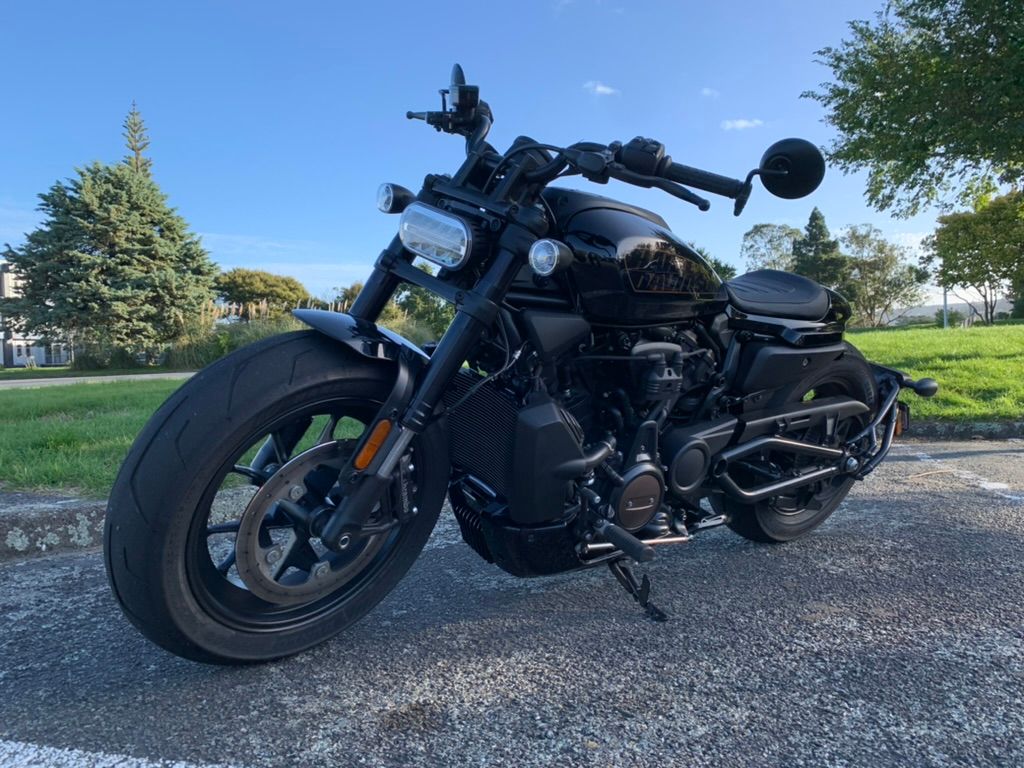 What's it like to ride?
I had the Harley-Davidson Sportster S press bike for 2 weeks, and in that time I clocked up around 1000km. Swinging a leg over for the first time felt familiar to other foot forward cruisers I have ridden before. Same, same, but different. The pegs are higher than other cruisers I have ridden, meaning it can be leaned into corners better.
The last Harley I ride was the Sportglide, and I actually really liked it for its practicality. I really wanted to like the Sportster S too, but with nowhere to store anything, and no pillion seat to strap anything down to, I found it difficult to justify its existence in any facet of my life. I'm a commuter, so taking a laptop, phone, keys, and wallet with me every day to work is a minimum, and I had to carry a backpack every day. This in itself is not a major issue until you remember that the bike possibly has more sidewall flex in the rear tyre than it does rear suspension travel. So even riding over a cats eye or a manhole cover is going to realign your spine.
OK, this is not a commuter bike, a fact reinforced by skyrocketing fuel prices, a thirsty 1250cc engine, and a thimble for a fuel tank. I got a bit of range anxiety seeing the TFT display saying I only had around 40km left in the tank, so I filled it up and was surprised that it only took around $20 worth of fuel. Great until you see that it only took 9.5L to fill it and the range readout only showed around 190km to empty...  
So this is a weekend toy? yep, no problem, but only for short rides, because with the foot-forward setup, all the weight is on your tailbone, and with the lack of rear suspension travel, it's a pretty hard ride. You can really only ride for say 40 minutes before needing to stop and shake it out. also, you won't be taking your significant other, no pillion seat. For a short ride though, I have no complaints. My commute is around 30 minutes each way, and it was comfortable enough for that.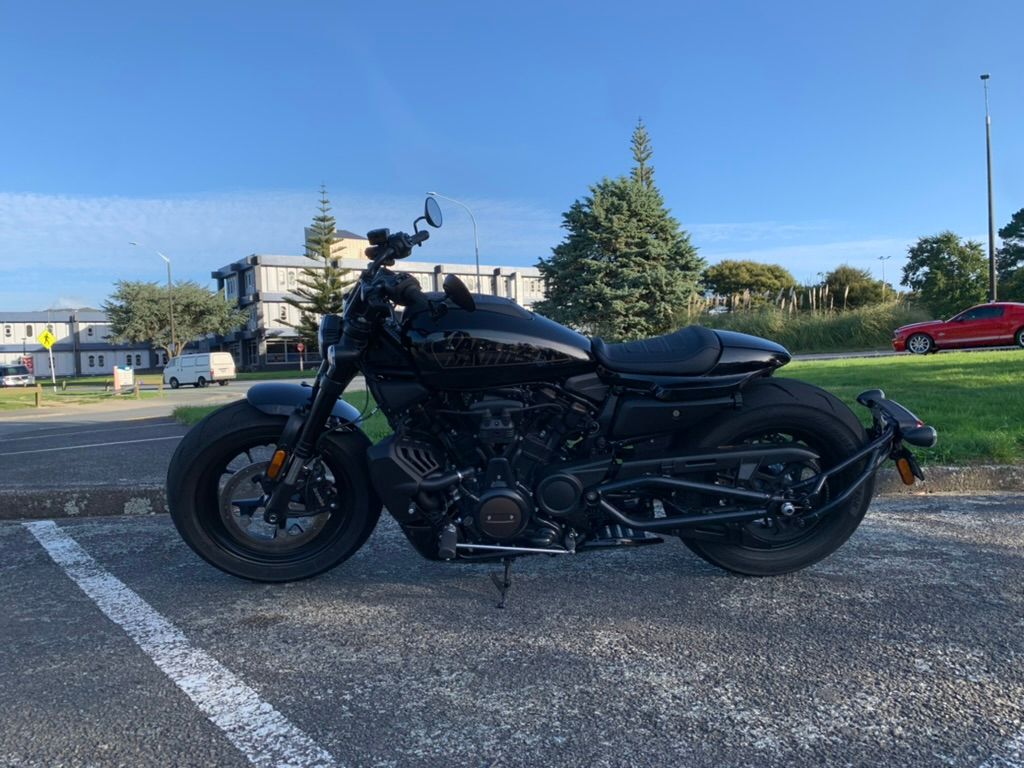 There is very little vibration from the engine, and the bars are very stable once underway, but at low speeds, the front tyre does tend to track across the road a little. There is no wind protection, which I actually liked. It meant there was no disturbed air hitting my helmet and gave me a nice quiet ride. It would be great in summer for maximum airflow.
I've ridden the Pan America, so the switchgear on the Sportster S feels familiar, It should, it's exactly the same. There are a LOT of buttons, the bike is equipped with Bluetooth so you can pair your phone and download the H-D app to control your music and navigation, as well as ride tracking, etc. The engine is a very similar unit to the Pan America also, though they have brought the peak torque down in the rev range. like putting the cookies on the middle shelf in the pantry instead of the top shelf. you can reach them easier.
The engine really is the best part of the bike. I think the Rev Max is what's going to save Harley-Davidson. It's water-cooled and electronically managed, with all the bells and whistles. It's punchy, smooth, and reliable, with 3 standard rider modes and one customisable mode. You can set everything from how much throttle response you want to how much engine braking you need. Sport mode is snatchy and twitchy, Street mode is nice and snappy when you want it to be but also refined and relaxed, and rain mode really reigns in the horses in less than favorable conditions. As always, my favorite feature on a motorcycle, cruise control works from 3rd gear up, and is great for eating up the miles.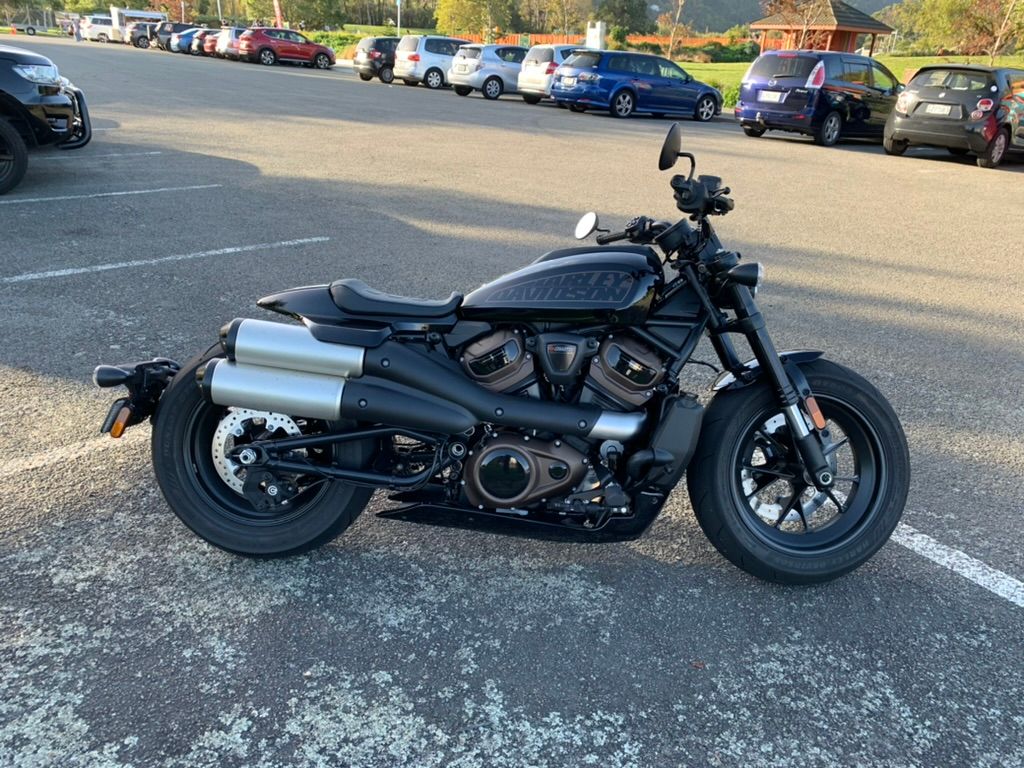 The low seating position gives confidence and does make it easier to manoeuvre and although I just said above that it's not the easiest bike to muscle around at low speeds with that fat front tyre, I did get the chance to put it around a moto-gymkhana course while I had it, and with a little practice, I think it could be pretty competitive. hey, It's no DRZ450, but it's not the worst bike for the job.
Ok, it looks cool. but whats this "hero bike" comment above all about?
Well, I mentioned it's not practical, but I also mentioned it looks fantastic. Have you ever heard the saying "never meet your heros"?
The reason you should never meet your hero's is because you will only be disappointed, they look awesome shredding a guitar on stage, or acting in a blockbuster movie, but in reality they shorter, fatter, not as quick witted or otherwise somewhat disappointing. The Sportster S is the same. I looks great with those big fat tyres, but they mean the bike handles like crap. Even walking the bike in and out of the garage is difficult, the long wheelbase makes it very awkward to manoeuvre in to small gaps. It kind of goes where it wants to go, like living with a teenager, you sort of have to make it think it was their idea all along.
The short stubby fairings and fenders add to the aesthetic, giving a muscly bulldog sort of vibe, but ride through a light shower and you're going to wear all that road grime and water. I rode through one such shower... well, even calling it a shower is over stating it, I rode through an area where it had been raining lightly around 15 minutes before I got there, but stopped by the time I arrived, and suddenly I had a rooster tail of water coming up from the front wheel hitting my helmet. I started to feel the familiar damp trickle down the back of my pants and a realised those big fat tyres were picking all the water off the road and throwing it at me, and the short fenders where doing little to nothing but catching the drips as they rolled off me. Not only did I get very wet, but the bike was filthy by the time I got home, and I had to clean it.
So, in conclusion, the Harley-Davidson Sportster S is a brilliant-looking bike, and is not all bad to ride. I love where Harley-Davidson is going with this new Rev-max engine platform, and the Sportster S wins as a poster bike. but in everyday life, I don't think it quite ticks all the boxes for me. If you don't want a bike that can do more than the odd weekend charity ride, and you don't need to carry more than a wallet and keys, then go for it. It's a hoot. But it's a poster bike or Hero bike, and one should never meet their heros.
Currently available in NZ for $28,750 +orc.