This story first appeared on Onthrottle.co.nz - Written by Mathieu Day-Gillett
Earlier this year I upgraded my action camera to the DJI Osmo Action after years of using a GoPro Hero3. The DJI is an affordable alternative to the market-leading GoPro with plenty of must-have features for motovlog or general action sports use. But just how good is it? Here's what we think after nearly nine months of using the DJI.
It was a small incident at the top of Jollies Pass that saw my 6-year-old GoPro Hero3 finally met its demise. With the microphone port of the GoPro ripped out of position and non-functional I had to find a new action camera to record my rides with. With new GoPro options still prohibitively expensive, I chose to replace it with the DJI Osmo Action instead. But was it a good choice to go for the cheaper option?
The DJI has been around for a couple of years at this point, and most closely resembles a GoPro Hero7 Black in terms of specification, yet at $400 (the cheapest regular price I've found it advertised at), it is nearly half the price of the GoPro which has been superseded twice now.
In terms of a jump in technology from my old Hero3, it is night and day in terms of image quality, colour, and image stabilisation. The Osmo Action can record in 4K high definition up to 60 frames per second (FPS) and features DJI's "RockSteady" stabilisation which makes for a much smoother viewing experience – especially if you have it mounted to your helmet.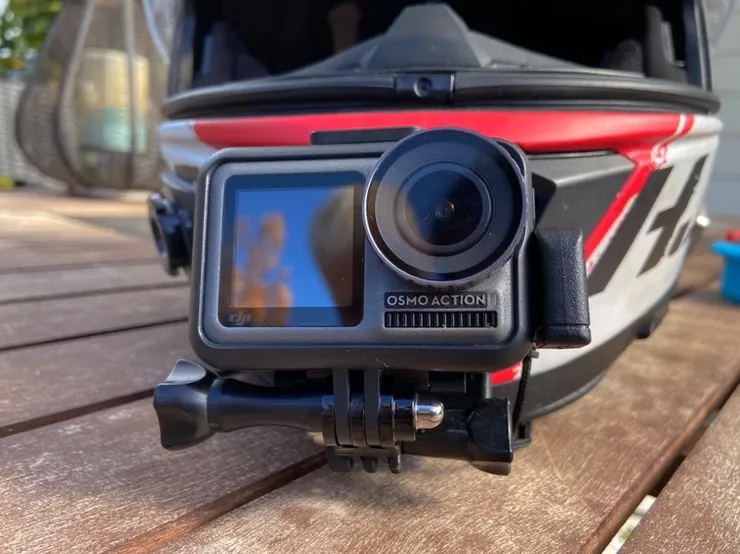 Colours are more vivid and with an easily removable side port, you can easily charge it on the go while you are riding.
It's a much easier camera to use as well thanks to its twin screens with very easy-to-understand settings.
As a MotoVlog Camera
When it comes to MotoVlogging with the DJI, there are some definite plus points in its corner with one negative as far as I can see when compared to the GoPro.
Let's start with the positives.
Firstly, the Osmo Action can make use of all your previous GoPro accessories, meaning you don't need specialised mounts in addition to anything you might previously have.
Out of the box, it is waterproof to 11 metres so you know it isn't going to die if you happen to ride through a thunderstorm – however it's important to note this isn't the case if you have the microphone adapter in place.
That microphone adapter is a great bit of kit and a must-buy if you're going to be MotoVlogging. Not only will it allow you to mount a lapel-style microphone within your helmet for great audio, but it can also charge your Osmo Action at the same time through the USB-C port at its base. This was something my old GoPro couldn't do and was a source of frustration as I had to unplug the mic adapter and plug it into a power source on the go.
The camera itself can shoot up to 4K quality with Rocksteady image stabilisation ensuring that any bumps in the road don't ruin things for your viewers.
When it comes to negatives there isn't really that many, with most complaints coming into view when you directly compare the Osmo Action to the GoPro range which beat it out slightly in a number of ways.
The main negative in the Osmo Action's corner is its field of view (FOV) is narrower than the GoPro equivalent, with the other being that the camera gets rather hot when operating for prolonged periods of time - especially around the lens itself.
Personally, coming up from an old GoPro Hero3 the limited FOV isn't a big deal and is quite comparable to the 1080p setting on the Hero3.
As you can probably tell I'm pretty happy with the purchase of the DJI overall. Yes it's got its minor quibbles, but it is easy to use, takes any of the usual action camera accessories you can get your hands on and does everything you need for chucking a motovlog together.
Just make sure your editing computer has the grunt to process 4k video if you plan on shooting at max resolution.