A few months ago we broke a story regarding Cardo and their New Spirit and Freecom X lines, you can read it here - https://www.motonz.com/new-cardo-coms/
Good news! I finally have in my hot little hands a Freecom X2 Duo set and a Spirit HD Duo set!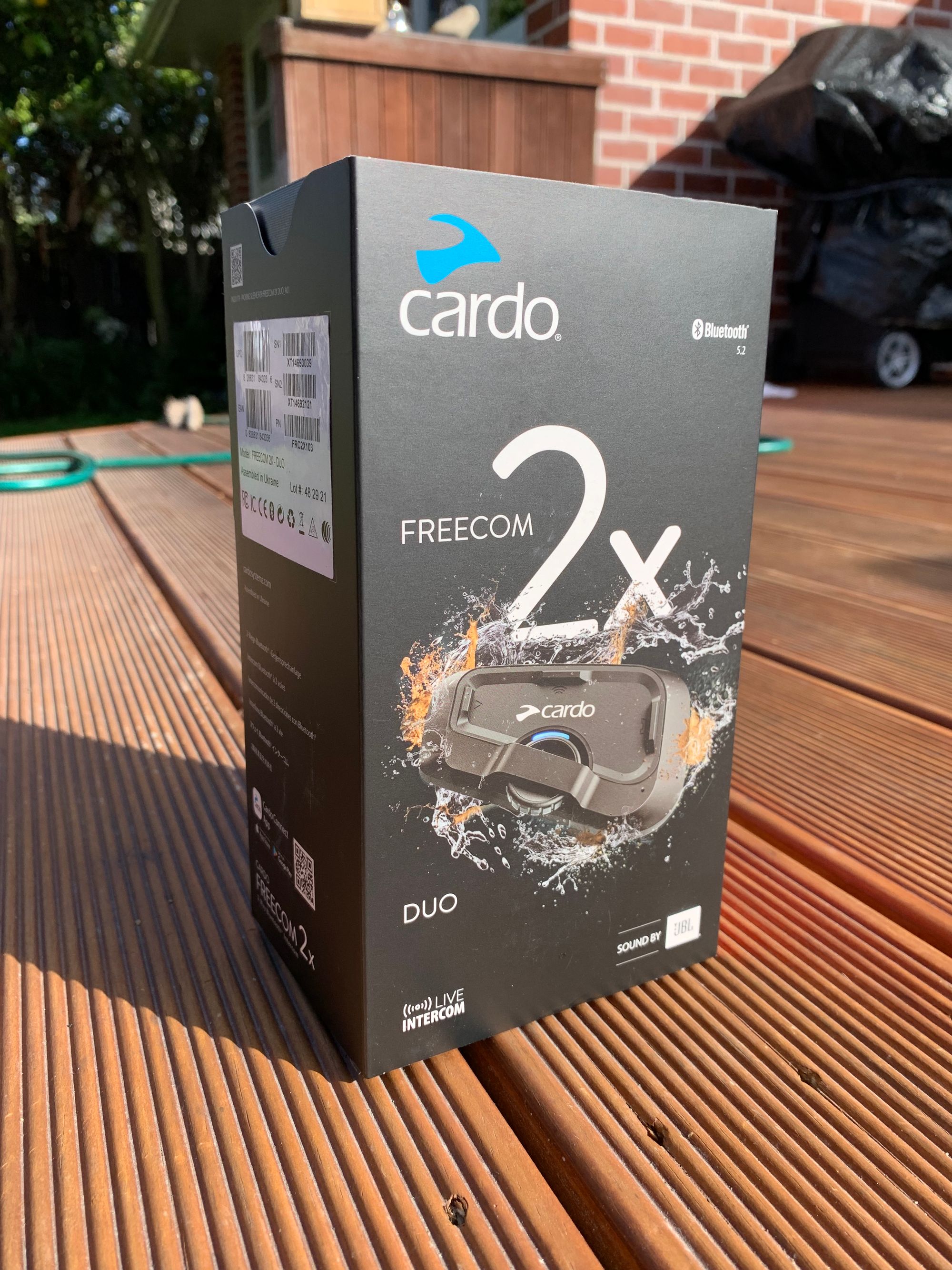 First impressions, Cardo has done a really good job of modernizing these two offerings. Both are completely waterproof and charge via a USB-C. Cardo offers periodic firmware updates and both of these units now update "over-the-air" meaning instead of taking them inside and connecting to your computer, you have the app on your phone and when you connect to the unit via Bluetooth, it pushes the update to the Cardo. very handy and saves a lot of time.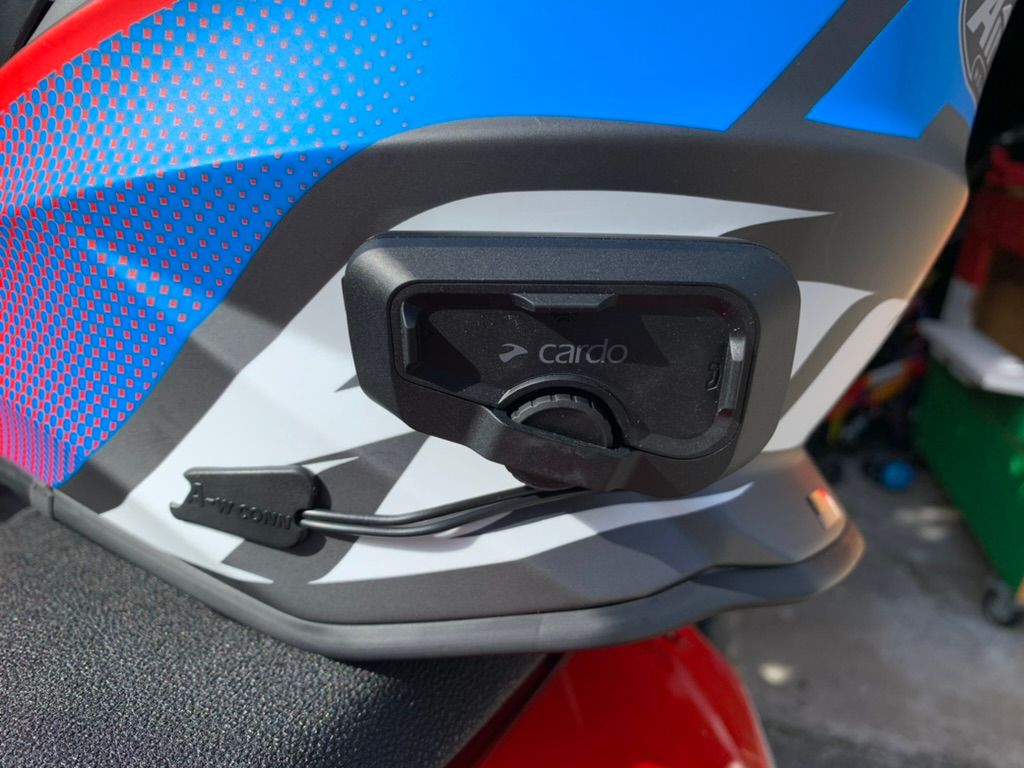 Freecom X2 Duo
The Freecom X2 can connect to one other Freecom via its Live Intercom system, which is still Bluetooth but is now a self-healing network.
The Freecom X2 has a range of around 800m line of sight, meaning you and a mate can get your freak on in the twisties, and if you do lose contact, you'll automatically reconnect when you catch up at the other end of the canyon.
There is also a Freecom X4 available which can connect to 3 other units.
Deciding between the X2 and the X4 is simple, and comes down to how many riders you plan on riding with. If you find yourself riding with more riders than usual, then you can use one of the 2 mobile phone channels to pair via standard Bluetooth 5.0 however, remember this is not a self-healing network, and if you drop out you will likely have to do the Cardo Dance again. This does however mean you can connect to a rival brand's intercom unit if you find yourself riding with a mate who has no taste in quality gear. The Freecom X line now makes use of the JBL speakers and sound profiles which have been available in the likes of the big brother Packtalk Bold for a couple of years now.
The Cardo Freecom X2 is completely waterproof as well, which is something none of the other intercom brands can say. The Freecom X now also comes with the JBL speakers originally released with the Packtalk Bold. There are still all the extra bits and bobs in the box we have come to expect from Cardo, they really do make it easy to install these units in almost any helmet.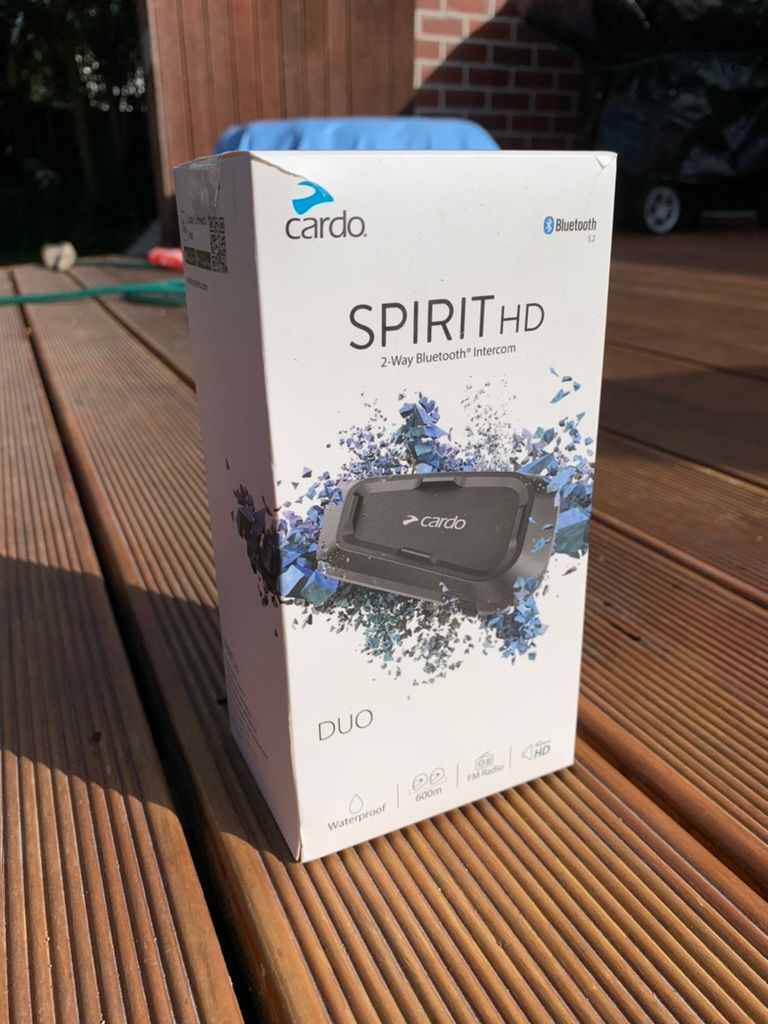 Spirit HD Duo
Let's have a quick look at some of the features of the brand new entry-level offering from Cardo, the Spirit HD. Firstly, being an entry-level intercom, the features match its price and place in the range. It is a 2-way intercom, with a claimed range of around 600m line of sight, but this is really more likely to be around the 300m-500m mark, and I would say possibly best for rider-to-pillion communication. The Spirit HD comes equipped with Cardo's own 40mm HD speakers and boasts 13 hours of battery life, also utilizing USB-C and fast charging. Similar to Freecom, the Spirit HD has "Over-the-air" updates once connected to the Cardo app on your phone., it also has 2 Bluetooth channels for the likes of your phone, GPS, or another rival intercom brand if you find yourself in that situation.
Holding both the Spirit HD and the Freecom X2 in my hand, they feel like solid little units, they feel like quality. The buttons are rubberized, feel solid, and protrude enough to feel them through thick gloves. One thing I did notice though on both units, is the USB-C is only covered by a little flap of rubber, it doesn't seem to lock at all, so I wonder how water or dust-proof it's actually going to be. But with that said,  I'm not completely schooled-up on how the USB-C socket deals with the elements so I'll reserve judgment at this point.
I will be testing these two units fully and will share my thoughts here on motonz.com, Kiwi Rider Podcast, and on my Youtube channel linked below.