It's finally arrived!
Hot off the courier from Cardo and MotoGear.co.nz we finally have the Cardo Packtalk Edge Duo.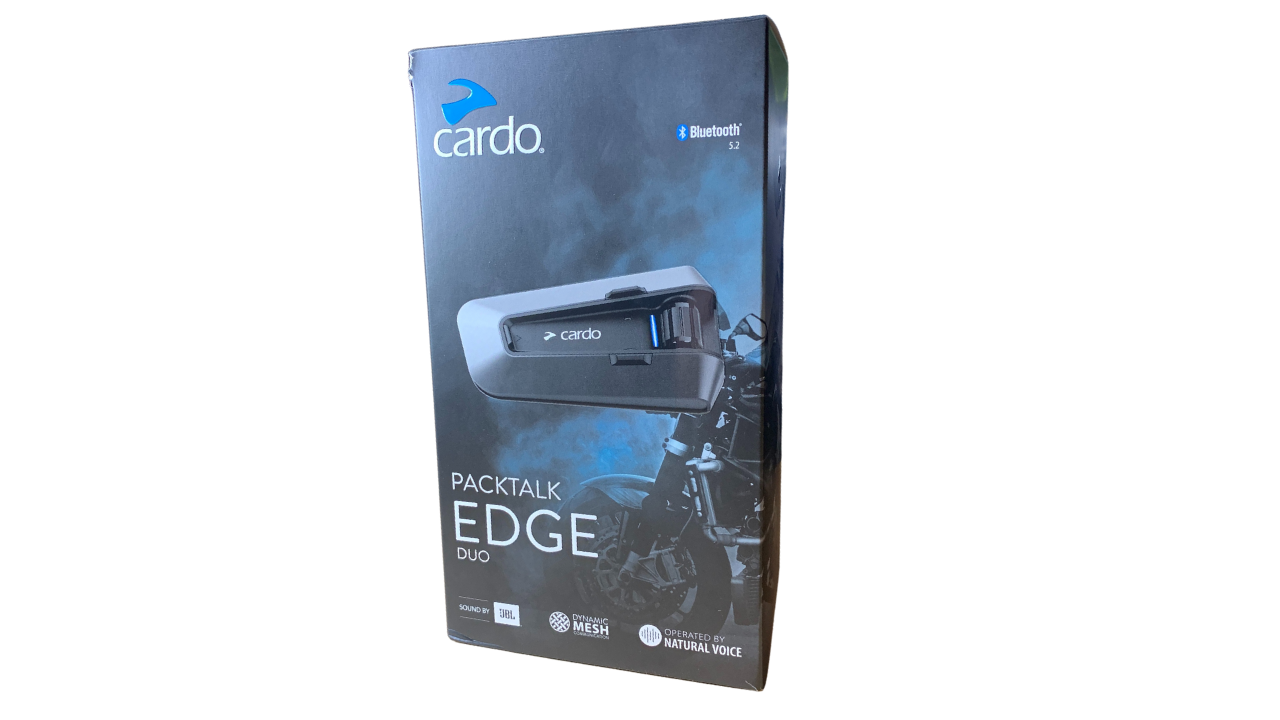 This is the new top dog from Cardo. With 1600m range, waterproof, USB-C fast charging, JBL 40mm speakers, Magnetic "Air-mount" and although Cardo aren't officially calling it this, wide-band audio.
The newest offering from Cardo is the first update to their top-of-the-line communication and Bluetooth device since the Packtalk Bold came out in 2015 and the Packtalk Black in around 2020. It has a new form factor and a new mounting plate, though it still comes with all the standard attachments. microphones and speakers you would expect from any Cardo intercom.
Included in the Duo box are 2x Packtalk Edge units, and 2 sets of mounting hardware. This includes adhesive velcro, a boom mic, a wired mic, 2x JBL 40mm speakers, alcohol wipes, and speaker spacers.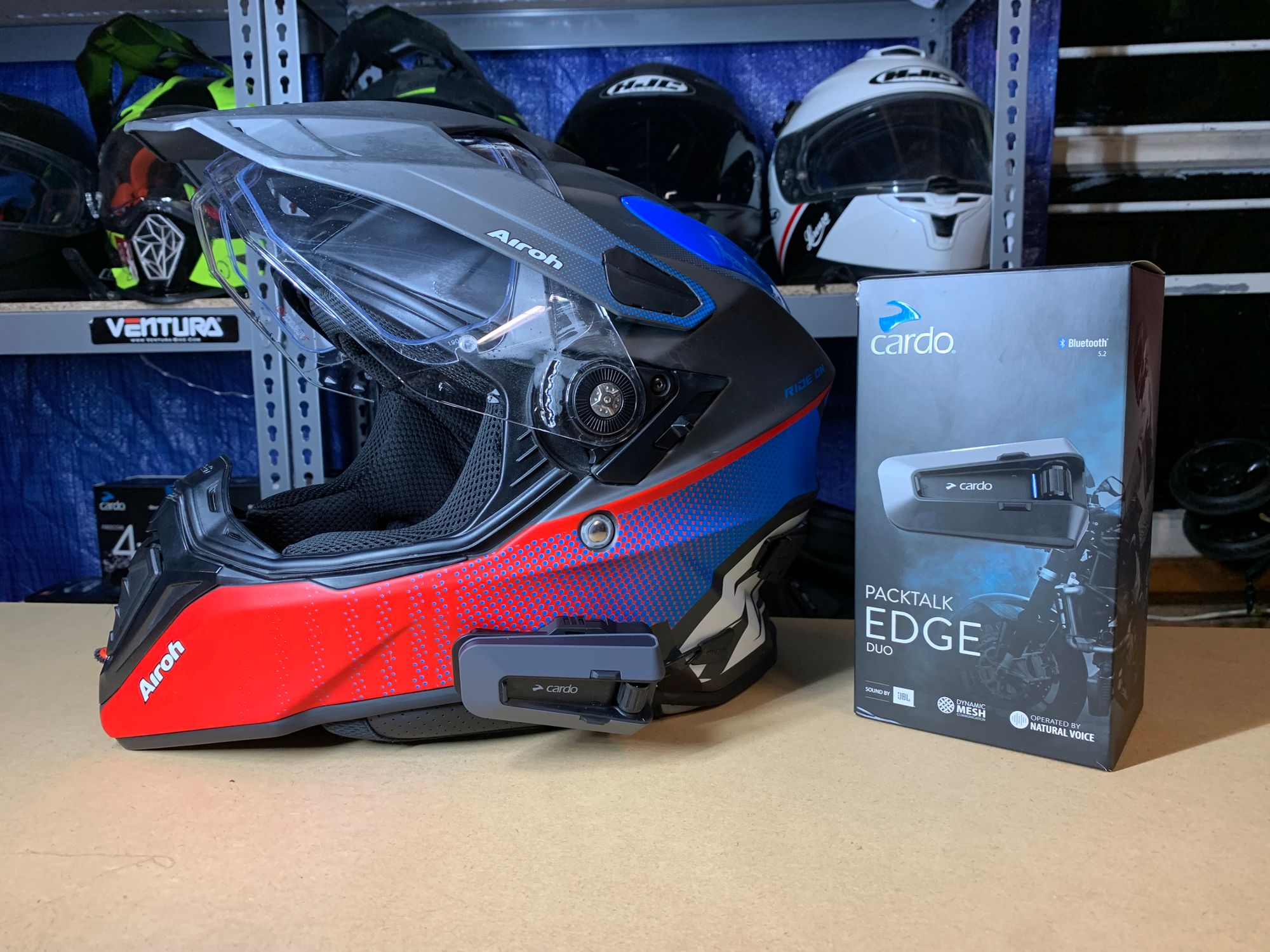 Updates to the software include over-the-air updates, meaning you can now update the device via the Cardo app instead of plugging it into a computer. The JBL sound profiles have been updated, giving the user the option between Vocal, Bass boost, and High-Volume EQ profiles. Cardo has done a lot of work on the noise-canceling feature also. So when talking to either other riders or people on a phone call, the person on the other end won't hear the wind rushing past your helmet. In fact, often people on the phone have no idea I'm riding when I'm talking to them. add to this there appears to now be more volume available from the unit, so even riding through a hailstorm I can hear my music or podcast easily.
The new form factor is black and grey, with 3 rubber buttons that protrude from the unit enough to feel when wearing thick gloves, and a roller wheel that doubles as a 4th button when pressed. The new mounting plate dubbed the "Air mount" has magnets built-in so attaching the control unit to the mounting plate is easy, even if you have put your gloves on before remembering to put your Cardo on your helmet. It self locates and attaches with a solid click. When compared to the likes of the Cardo Packtalk Bold, there is noticeable no flick-up areal on the Edge, and it's slimmer.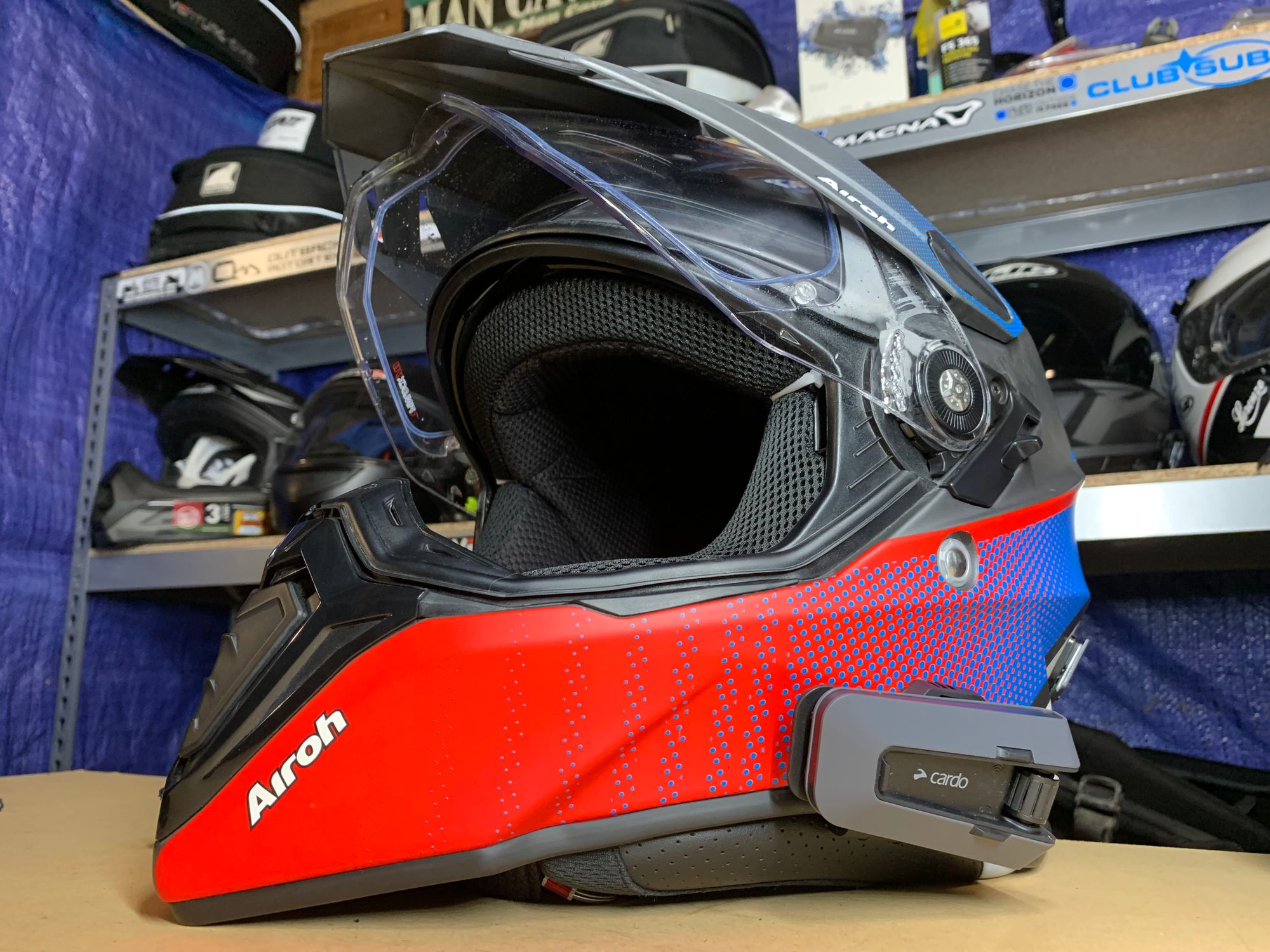 So, first, let's answer some of the most common questions
Who is this device for?
If you ride in a group of 4 or more, like listening to music while communicating with other riders, you're an all-weather rider, or your rides are all day or multi-day affairs then this is the device for you. While the whole cardo Spirit and Freecom range offers mobile phone connectivity, and the ability to talk with 1, 2 or 4 riders at a time, the Packtalk Edge can connect with up to 16 riders in a DMC 2.0 group. This would be ideal in an instructor/trainee use case, but is also brilliant for large group rides or rides with fewer riders, but where you end up spread out more.
Questions
Is the magnetic "Air-mount" secure?
Absolutely. It clips on with strong magnets, but also has a couple of spring-loaded clips that fasten in place automatically. When you want to take the unit off the mount, there is a lever you need to press, then slide the unit forward off the mount, there is no chance this is coming off your helmet while riding.
How long does the battery last?
13 hours easily. There is also an "Eco-mode" which turns DMC off when it's not in use for a period of time, this will make the battery last longer. If you find your self running low on battery power, the unit can be charged up quickly via USB-C while you stop for a coffee or lunch for example, and it can even be used while it's charging.
Is it worth updating from another Cardo unit?
If you are running an older Freecom+ model then I would say an update would be worth it, but only if you find yourself riding in larger packs. Otherwise a Spirit or Freecom X unit might be fine for you. If you're currently running a Packtalk Bold or Slim, then the decision is really up to you and what you value more. I have found the quality of the intercom to be way better than the likes of the Packtalk Bold. It's what I would call wide-band audio. Much like the quality, you would get when talking to someone on a Zoom call or something. Meaning you can ride and talk for longer without getting fatigued. It's nicer on your ears. But if this means less to you, and you already have a perfectly working Cardo Packtlak Bold, then maybe upgrading is not a high priority. The Packtalk Bold is still being sold new, and software updates will continue being developed for these.
Is it really waterproof?
Cardo claims the Packtalk Edge is waterproof, yes.
Although the Packtalk Bold was IP67 rated, the Packtalk Edge is not IP rated at all. Don't let this deter you however, Cardo stands behind their products and if the unit is damaged by water, they will replace it under warranty. I have seen video footage of the Packtalk Edge being submerged for hours and still working fine. I'd have no problems riding in any conditions with the Packtalk Edge on my helmet.
How easily is the installation?
It's really no different from any other Cardo Intercom, if you already have the 45mm JBL speakers and mic installed, then you're just changing the mounting plate and control unit. I would say less than 10 minutes if you know what you're doing, around 15 minutes if you have never done it before.
Packtalk Edge
Price Single NZ$649
Price Duo NZ$1199
Range: 1600m
Speakers: 45mm JBL
Battery Life: 13 hours
Comms Connections: DMC 2.0 or Bluetooth
Bluetooth Connections: 2x (Phone/GPS/other brand intercoms)
FM Radio: Yes
Voice Commands: Yes
USB-C With Fast Charge: Yes
Waterproof rating: Yes (no official rating)
Over-the-air updates: Yes
Cardo App Control: Yes
Physical Layout: 3x buttons 1x wheel
If you are interested in purchasing a Cardo Edge or any of their other products, feel free to use this link to purchase from the international online store.
You will also be helping out MotoNZ in the process.