Over the past 6 months, I have had this Beta RR 430 in my garage, and free reign to do with it pretty much anything I want. I've given it a good going over, and ridden it on most terrains, so here are my final thoughts on this bike.
Let's start with the specs.
The RR430 is a single-cylinder 4-stroke motorcycle with a definite dirt bias.
We have a 21-inch front wheel, and 18-inch rear wheel and everything in between is built to save weight.
The engine has a 95mm bore, 60.8mm stroke, displacement of 430.9cc, and a compression ratio of 12.33:1. It's water-cooled, and fuel-injected, with a button to switch between the 2 preloaded maps. With a seat height of 940mm it's a fraction on the high side, but racers never need to touch the ground anyway right?
The narrow seat does help you get a foot down when you need to. Couple that with a wet weight of less than 120kg, and you have an incredibly agile steed indeed.
Up front, we have an upside-down fork with 295mm travel, and a mono-shock down the back with 290mm travel, both fully adjustable. Front brakes are aggressive, with loads of bite, enough to catch out the inexperienced, a single 260mm disc up front and a single 240mm disc down back. With loads of lever feel, they actually haul the bike up very well.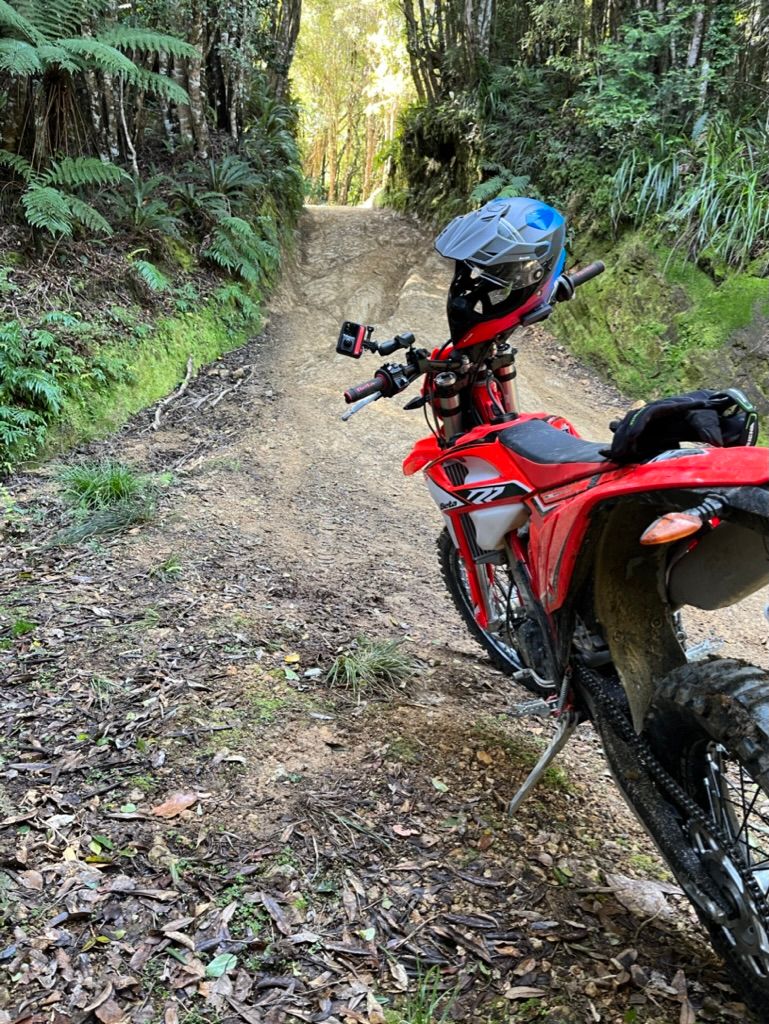 In the interest of full transparency, Beta Motorcycles NZ supplied me with this bike, in return for my creating content for their social media channels. Part of the deal was that I would also write about it, and share my experiences via Youtube, however, they don't have any control over what I say and don't see this content before it is published.
Since selling my own personal dirt bike back in 2019, I've been riding mid-size and large adventure bikes. so getting back on this dirt thoroughbred was a big change. I instantly felt how light and nimble the bike is. Taking it to places like Red Rocks on the Wellington South coast, I've never felt so free to roam and explore.
I attempted Round 2 of the National Enduro series at Moonshine and was instantly put back in my place. It was not a true reflection of how capable the bike is, because my ability let the team down. My fitness was not up to the level of riding an enduro. The bike itself did an amazing job.
One downside of the bike is that being 430cc, it's on the larger side of the dirt bike scale, so does get hot. In fact, I've never melted as much clothing on any motorcycle as I have in 6 months of riding the Beta RR 430. It could also do with a cooling fan on the radiators, as in the tight twisty technical stuff, it has a tendency to get a bit warm and let the steam out. This I think, coupled with my personal riding ability is the only downfall of what is otherwise a very impressive and versatile motorbike.
Something else to think about is security. The Beta range doesn't use a key ignition and being so light, there's not much stopping someone from pulling up in a ute, chucking it on the back, and driving off. If you are thinking about buying one, I would suggest a bloody great bolt in the garage floor and a massive chain to stop it from going anywhere, might be a good idea.
The Maxxis Enduro tyres that come on these bikes from the factory are great, they have a good amount of grip on the tarmac, and an astounding amount of grip off-road. Though, the trade-off is that they do wear out quickly. I swapped these out before I wore them out completely, for a set of Metzeler Tyres, Karoo on the back and MC360R on the front. This changed the bike a little. Although still grippy off-road, the MC360R on the front is not a good tire on the blacktop and did have something to do with me dropping the Beta and sending it down the road on its side. I still take full responsibility for this, as I should have been more schooled up on the capability of the MC360R before riding on it. It's made from 100% Carbon Black and no Silica which is the agent that gives good grip from cold. This means the tyre gives little warning before breaking traction and will do so easily either by washing out in a corner or locking up under brakes. The knobs negate this on dirt, digging in and providing awesome traction while being hard-wearing.  
After my experience sliding down the road on my ass, I was... not scared to ride the Beta, but it did make me think twice about where and when I rode it. Thankfully the bike sustained little damage and lived to ride another day.
Maintenance is easy, with great access to the air box. Changing the spark plug is not as easy as some bikes I've owned, as the frame gets in the way a little. If you owned the bike long-term then you would likely invest in the right combination of flexi-joint sockets and this would be less of an issue. Otherwise, the rest of the bike is pretty much the same as any other motorcycle, with chain and sprocket maintenance, and general cleaning.
The Beta RR 430 is an outstanding dirt bike. It loves to be revved and provides the best riding experience in the top 50% of the rev range. It's light and easy to ride. It's been a great experience living with this bike and has definitely redefined what I look for in a dirt bike. If you're in the market, don't let the fact that this bike is Europe turn you off. some of the best enduro bikes out there are not Japanese. take a Beta for a ride and see for yourself.