Introducing our new long-term test bike, the 2022 Beta RR 430 4T is a high-performance dirt bike that somehow managed to become road legal. It does not have ABS, so don't ask me how it was able to become road legal in NZ.
We have this mighty Beta for the next 6 months, and we're excited to be able to take you along for the ride on some of the trails and events that are a bit too gnarley to take some of our bigger ADV bikes.
Let's start with the stats
The engine is a 4-stroke, single-cylinder, liquid-cooled unit, 430.9cc, 95mm bore, and 60.8mm stroke. It has an electric start and is fuel injected, as you would expect with most modern motorcycles. it comes equipped with a 9L fuel tank and has a dry weight of only 108.5kg
The chassis is steel, double-cradle design. The seat is 940mm off the ground a fraction tall for my liking, but as I said, this is a dirt bike first and foremost.
The wheelbase is 1490mm, with a 21inch front and 18-inch rear.
Upfront there is 295mm wheel travel, and down back is 290mm travel
Brakes, 2pot caliper front, and single pot rear.
We'd like to take this opportunity to thank Beta NZ for being kind enough to lend us this bike for an extended period and to ask you, if you wouldn't mind, pulling out your phone, opening up Instagram, and following Beta Motorcycles NZ, that would be awesome, show them some love.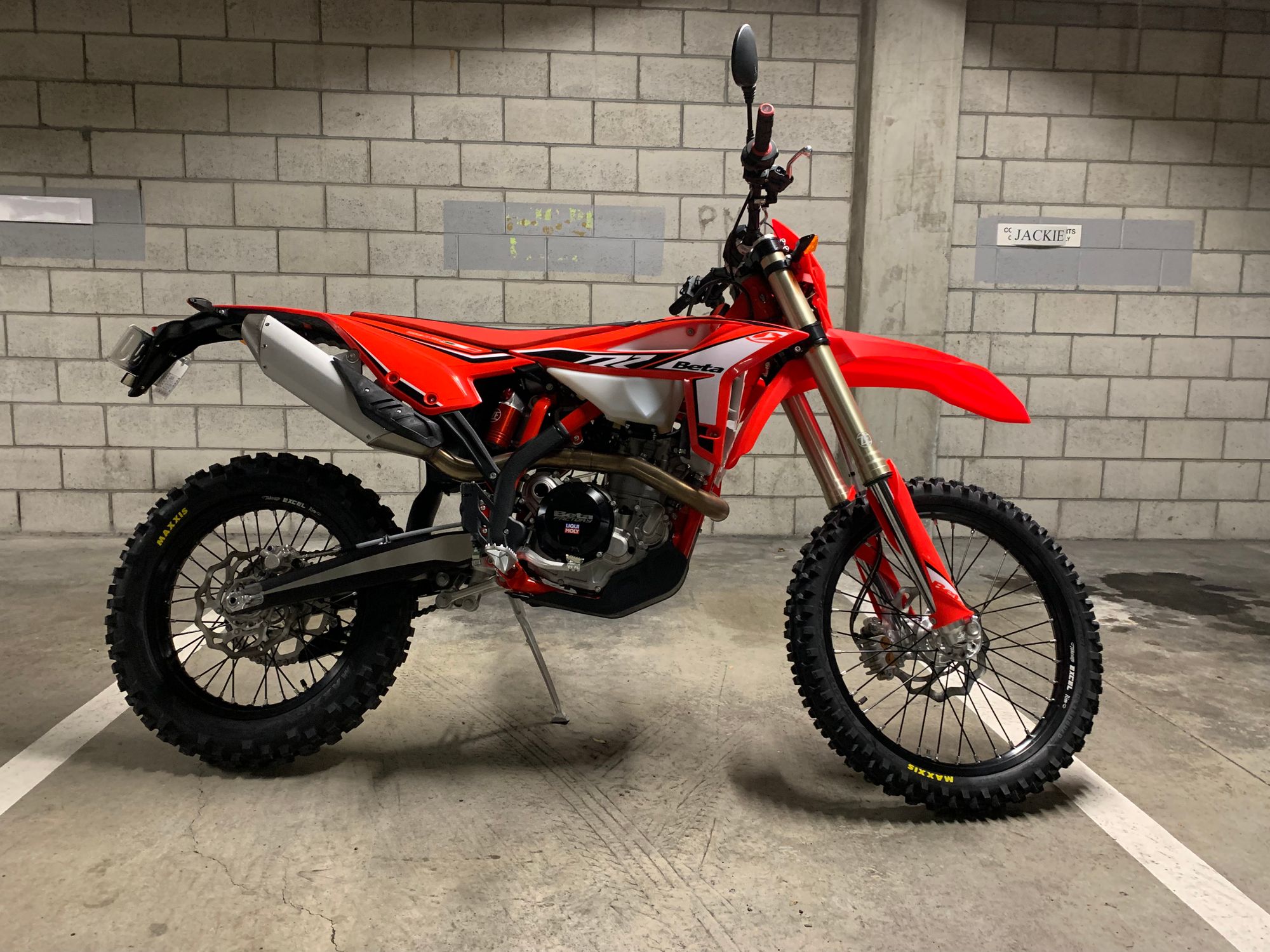 My first impressions of this like are... It's tall and hard. but surprisingly easy to ride. Don't take my mention of its height and firmness as downsides though, remember I've just got off my daily rider cushy dad-mode ADV bike. Yeah, the Beta is hard, but it's race bread, you're not meant to sit down on it. and Yeah, it's tall, but it needs to be. It's a dirt bike!
The clutch action is smooth and very easy to feel the friction point. The brakes are solid with loads of bite to them. There is only one wing mirror, and being a larger single-cylinder engine there's a fair amount of vibration so that mirror is close to useless.
Am I being overly harsh on this machine? because it's road legal, one does need to compare it to the other bikes in the class. It's a competition bread enduro, so we should keep that in mind when comparing it to the soft, smooth, and cushy ADV bikes I've been riding for the last few years. The Beta RR 430's off-road intentions are made clear by the plastic fairings, knobbly tyres, and keyless start. Yes, I said keyless start... no, not a key fob you put in your pocket. There is literally no key... you just walk up to this thing and push a button to start it. The Italians clearly didn't think security was worth tipping the scales for. If this is a bike you see in your garage, you best have just that. a lockable garage. and maybe a bloody great chain and bolt. I know I'll be keeping this thing under lock and key.
The finish of the bike is nice though, all the parts fit nicely and there's some good attention to detail.
On top of the staggering fact you can still get this bike in road-legal guise, can you believe this bike is LAMS approved? I guess that's not as amazing of a fact given it's only a 430cc, but still. If I had this bike back when I was on my learner's license, I would have killed myself.
So, the plan, I have this bike for around the next 6 months, to test out in all terrains. We're going to try some beach riding, commuting, trail and adventure riding, and maybe even an enduro. So make sure you are subscribed, and we will keep you up to date with all the developments.